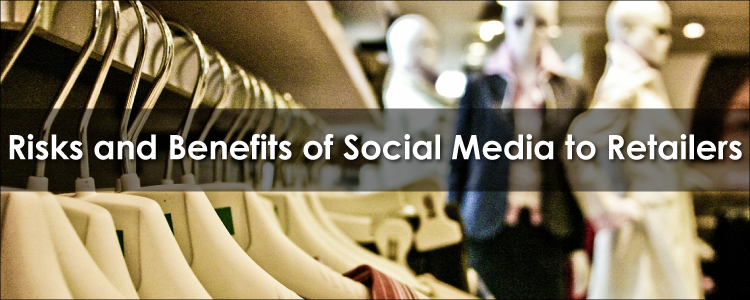 The role of social media in retail marketing has massively increased during the last 10 years. As large retailers have expanded to e-commerce to support their physical stores, the role of social media for acquiring and keeping customers, while building and maintaining brand reputation, has become even more critical. In 2014, the top 500 retailers earned $3.3 billion from social shopping, which compared to 2013 is an increase of 26%. Social media also drives more retail traffic than any other online channel, with Facebook as the top contributor with a 64% share of social revenue.
Risks and benefits of social selling
Using social media is an effective way of attracting customers in a field that requires lean and efficient ways of business to make a profit with ever-stricter margins. A single post can reach millions of consumers in seconds, which compared to the coverage and costs of magazine and billboard advertising, makes it a great marketing channel to utilize.
The risk of social media marketing comes from the same factors as the benefits. When a brand receives harmful content such as spam on their posts and ads, they are too, instantly distributed to the eyes of millions of consumers. This can hurt both ad performance and brand reputation, when instead of being equated with smart prices and good service with quality products, your brand starts to remind people of spam, pornography and phishing attacks.
Minimizing risk, maximizing profit
Social media, in particular Facebook, is a much-needed channel for retailers and the risks to reputation and customer acquisition can be managed with simple solutions. By moderating Facebook properties within 8 minutes 24/7 with a software-based solution, the cost-per-acquisition on Facebook has been seen to fall by 29% and sales income rise by 27%. Not only does this show that social media is a must-have marketing channel in a retailer's omnichannel palette, but that it also needs to be optimized with moderation to bring out the best results.
---
Learn how social media moderation increased ad performance for an online retailer.