Holidays
New Year Ads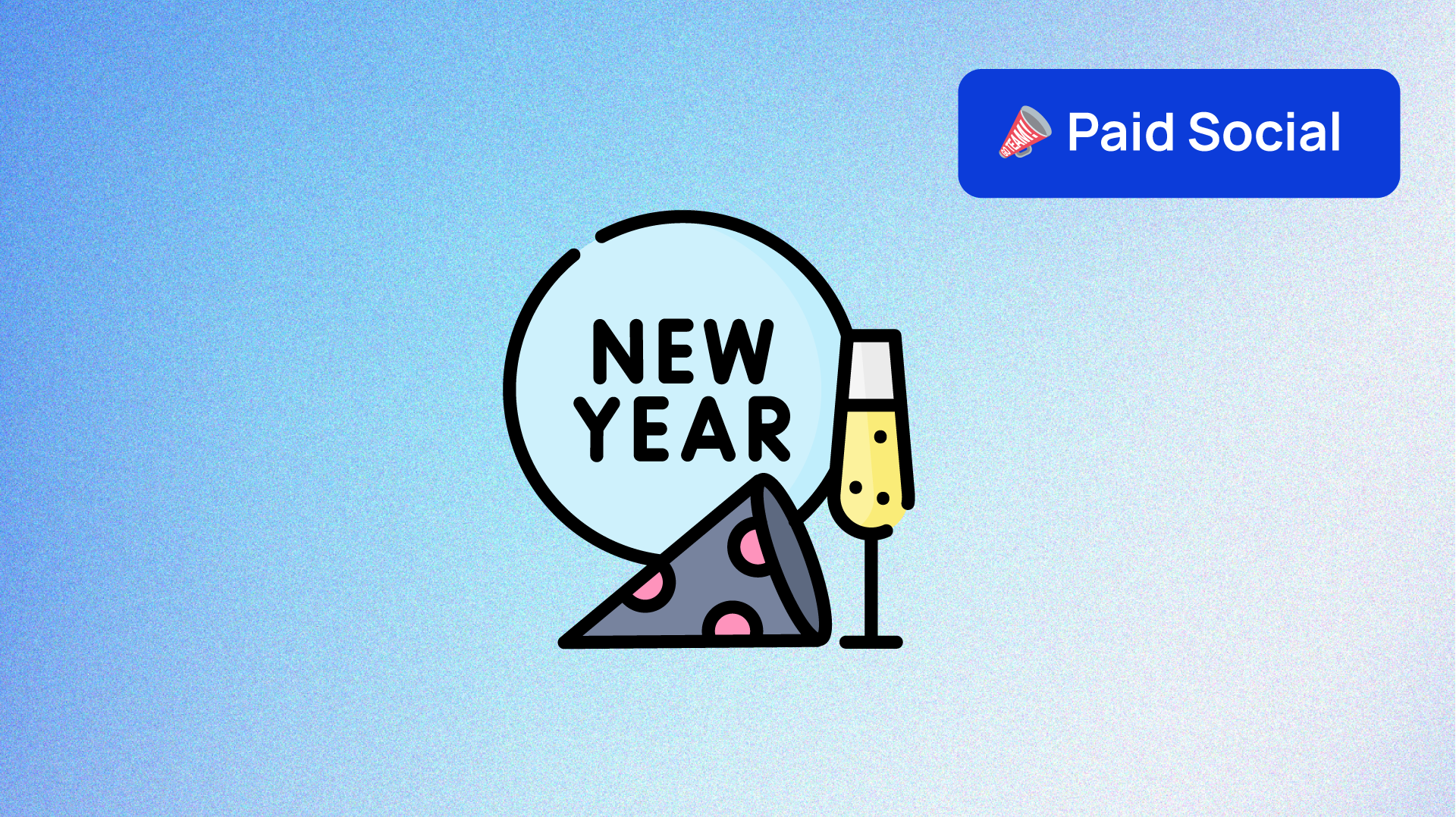 As the New Year approaches, businesses have the perfect opportunity to launch effective social media ad campaigns to capitalize on the holiday spirit and the resolutions of their customers.
In this blog post, we'll explore some of the best strategies for New Year ads, provide examples of real brands' successful campaigns, and dive into various industries to understand the types of ads they typically launch. Continue reading to dive into marketing ideas and get inspiration to create a New Year campaign that guarantees success.
5 New Year Campaign Ideas
1. Run Post-Christmas Clearance Sales
One of the most popular marketing strategies for the New Year is to offer post-Christmas clearance sales. Customers are often on the lookout for great deals after the festive season, and this is a great time to attract bargain hunters and clear out remaining inventory.
2. Run Last-Deal-of-the-Year Offers
Create a sense of urgency by promoting last-deal-of-the-year offers. Encourage customers to make final purchases before the year ends, tapping into their fear of missing out (FOMO) on exceptional deals.
3. Utilize Boxing Day Ads and Other Holidays
Leverage Boxing Day ads and other holidays like Kwanzaa to continue attracting shoppers even after Christmas. Extend your promotions and reach a wider audience during the holiday season.
4. Leverage New Year Resolution Offers
Promote products or services that align with common New Year's resolutions, such as fitness, health, or self-improvement. "New Year, New You" campaigns can strike a chord with customers looking to start the year on the right foot.
5. Launch Ads Focused on Fresh Starts
Emphasize the concept of fresh starts and new beginnings that come with the New Year. Launch Happy New Year ads to connect with customers on an emotional level. You should focus on how your products or services can help them embark on a positive journey.
6. Run Lunar New Year Ads
Incorporating specific ads for the Lunar New Year or Chinese New Year can be a game-changing strategy for your New Year ad campaign. The Lunar New Year is a significant cultural event celebrated by millions around the world, offering a great opportunity to tap into a vast and diverse audience. Tailoring your content to honor and embrace the traditions and symbols of this occasion can create a strong emotional connection with your target market.
New Year Ads: 20 Examples from Various Industries
If you're seeking inspiration for New Year creative ads, you're in the right place. Explore a curated selection of the best New Year ads from incredible brands across various industries.
Retail Industry New Year Ads
Retailers often launch New Year sales ads to clear out inventory, offering attractive discounts and post-holiday deals. They capitalize on customers' desire for a fresh start by promoting products that symbolize renewal and transformation.
Consumer Packaged Goods New Year Ads
Brands in this industry focus on New Year-themed packaging and limited-edition products to attract customers during the festive season. They may also offer exclusive New Year gift sets to entice buyers.
Health & Wellness New Year Ads
In the health and wellness sector, ads are centered around New Year's resolutions like weight loss, fitness, and healthy eating. Brands promote gym memberships, meal plans, and wellness products that fit within the "New Year, New Me" strategy.
Media New Year Ads
Media companies run New Year ad campaigns to promote their upcoming shows, movies, or subscription services. They often use themes of new beginnings and exciting entertainment to capture the audience's attention.
Food & Drink New Year Ads
Food and beverage brands create ads around New Year's Eve parties and gatherings, showcasing their products as essential for celebration. They may also focus on healthy options for customers aiming to maintain balanced diets in the new year.
Financial New Year Ads
Financial institutions leverage the New Year to promote savings plans, investment opportunities, and financial resolutions. They emphasize the importance of setting financial goals for the upcoming year.
Real Estate New Year Ads
The New Year is a great opportunity to launch captivating New Year Real Estate ads. With a focus on fresh beginnings, real estate agents promote attractive deals, exclusive listings, and enticing offers to potential homebuyers and sellers.
The real estate market usually emphasizes the significance of starting the year in a new home or making smart real estate investments for a prosperous future.
Travel & Tourism New Year Ads
In this industry, New Year ads feature attractive holiday destinations, emphasizing the idea of starting the year with memorable experiences. Special travel packages and deals are commonly offered.
Pets New Year Ads
Pet-related businesses launch ads focusing on pet care resolutions, grooming services, and New Year-themed pet accessories. They tap into customers' desire to include their furry friends in the celebrations.
In summary...
As the New Year dawns, businesses have a golden opportunity to create engaging and impactful ad campaigns. By implementing the best strategies and targeting customers' New Year resolutions and fresh starts, brands across various industries can ring in the new year with success.
Free 2023 Social Media Calendar