With over 200 million daily active users, Instagram has become one of the most popular social networks worldwide and a valuable space for brands to connect with consumers. The beauty industry has jumped aboard and has become a powerful industry ranking third on the Top 5 Industries on Instagram, by the average number of interactions. In fact, since 2002, revenue of the cosmetic industry has had its ups and downs, but as of 2016, is at an all time high, with an annual revenue of 62.46 billion dollars.
With so many people and so many various beauty brands, it is easy to get lost in the noise of it all. Beauty brands have had to adapt and learn how to be innovative and creative in order to be heard on Instagram. Here are what some of the most innovative beauty brands are doing:
Creating killer Instagram stories
14.5m followers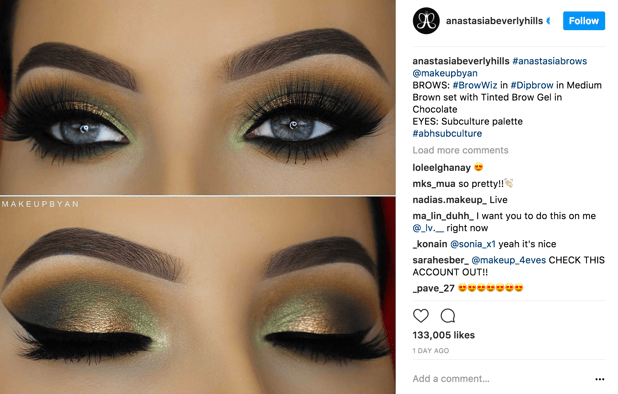 Anastasia Beverly Hills has been killing it on Instagram since day one and they have yet to let us down on Instagram stories too. From brow tutorials, to their favorite #lazygirl makeup hacks, they never fail to produce great content that helps you get the most out of your Anastasia products.
Using fan photos
9.2m followers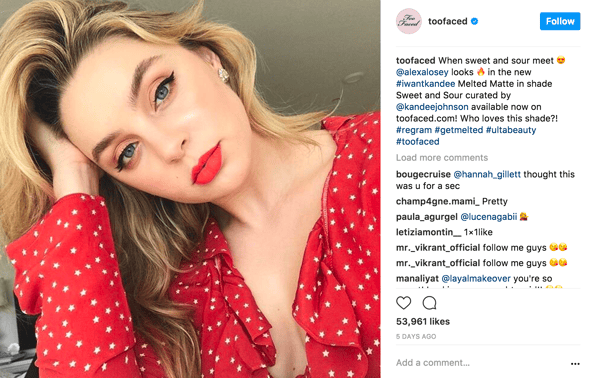 Beauty brand, Too Faced is getting influencer marketing right! We can all learn a lesson from them as they use their feed as a platform to promote their followers' work by reposting from makeup artists, beauty bloggers, and other fans, overall increasing the level of customer engagement.
Not only do followers love seeing their favorite bloggers featured, but they get the opportunity to submit their own work in hopes of being shared and increasing their exposure on Instagram. This creates a snowball effect as more and more fans attempt to be featured on Too Faced page and tag them in more posts.
Use of their ads, organically
Take a look at YSL's beauty page on Instagram and you'll instantly recognize their phenomenal work of using 3 images to create an aesthetically pleasing flow. The luxury beauty brand not only utilizes the use of 3 images in one, but they often include videos from their most recent ads.YSL Beauty has helped prove that video has become king on Instagram.
Best use of video ads
711k followers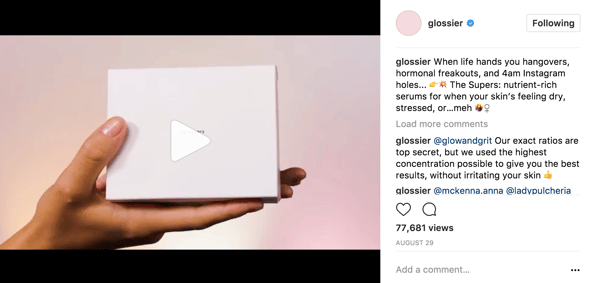 Cult followed brand Glossier, is a master of Instagram. From their use of fans as models to the use of creative hashtags (#nofilterjustglossier), they have learned how to use Instagram to their advantage. What makes their ads so great is that they feel organic. When you are scrolling through your feed and come across a Glossier ad, you may not even realize what you are watching. Their ads closely resemble makeup tutorials that you would find on Instagram organically and their stellar copywriting and use of real people draws the user in all the more.
Using Instagram to promote new products
4.7m followers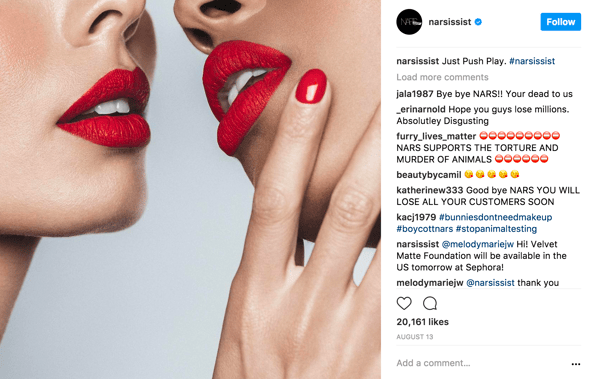 NARS has perfected the art of carefully curating a feed full of colour that is both sophisticated and effortless. The flow from one colour scheme to the next is so aesthetically pleasing that it's quite easy to scroll through to find shades that are work for you!
Currently, NARS is transitioning from their peachy pink hues of summer, into deeper and darker reds and nudes, just in time for fall. They are able to efficiently market their seasonal lines so that it's simple for fans to see what is upcoming and on trend.
Engaging in great customer service by responding to all inquiries
16.3m followers
At 16.3 million followers on Instagram, M·A·C Cosmetics is the most followed beauty brand on the platform. On average, the brand receives 60,000 comments a month, but they still manage to be the most responsive beauty brand out there. If you take a look at their Instagram account, not only are the posts filled with colour and artistry, but their comments receive answers, ultimately bringing in more fans. There is nothing like having your questions answered by one of your favorite brands. It makes you feel special, therefore increasing loyalty.
Video demonstrations
3.9m followers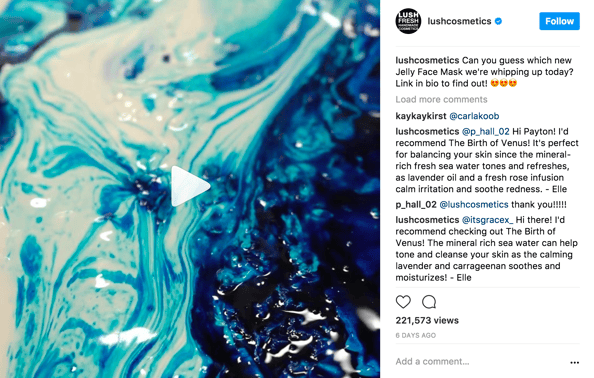 Lush Cosmetics has introduced a new marketing campaign involving brilliant colours and video demonstrations of their products in use. Have you always wanted to try one of their bath bombs, but never could quite commit? No worries, watching the behind the scenes of their newest bathbombs fizzling into gorgeous spirals and swirls of psychedelic colour will make you want to rush to your nearest Lush location and purchase 20 of them! Each post draws you in and leaves you with the desire to experience their products yourself, which is what every beauty brand truly wants!
In a market as big as the beauty industry, it's hard to stand out, but if you take the lead and apply some of the same concepts as these top notch and innovative beauty brands, you too can differentiate from your competitors.
If you want some expert advice on how to do better and reach your potential on Instagram, reach out to one of our beauty experts here at BrandBastion at sayhello@brandbastion.com.