Holidays
Thanksgiving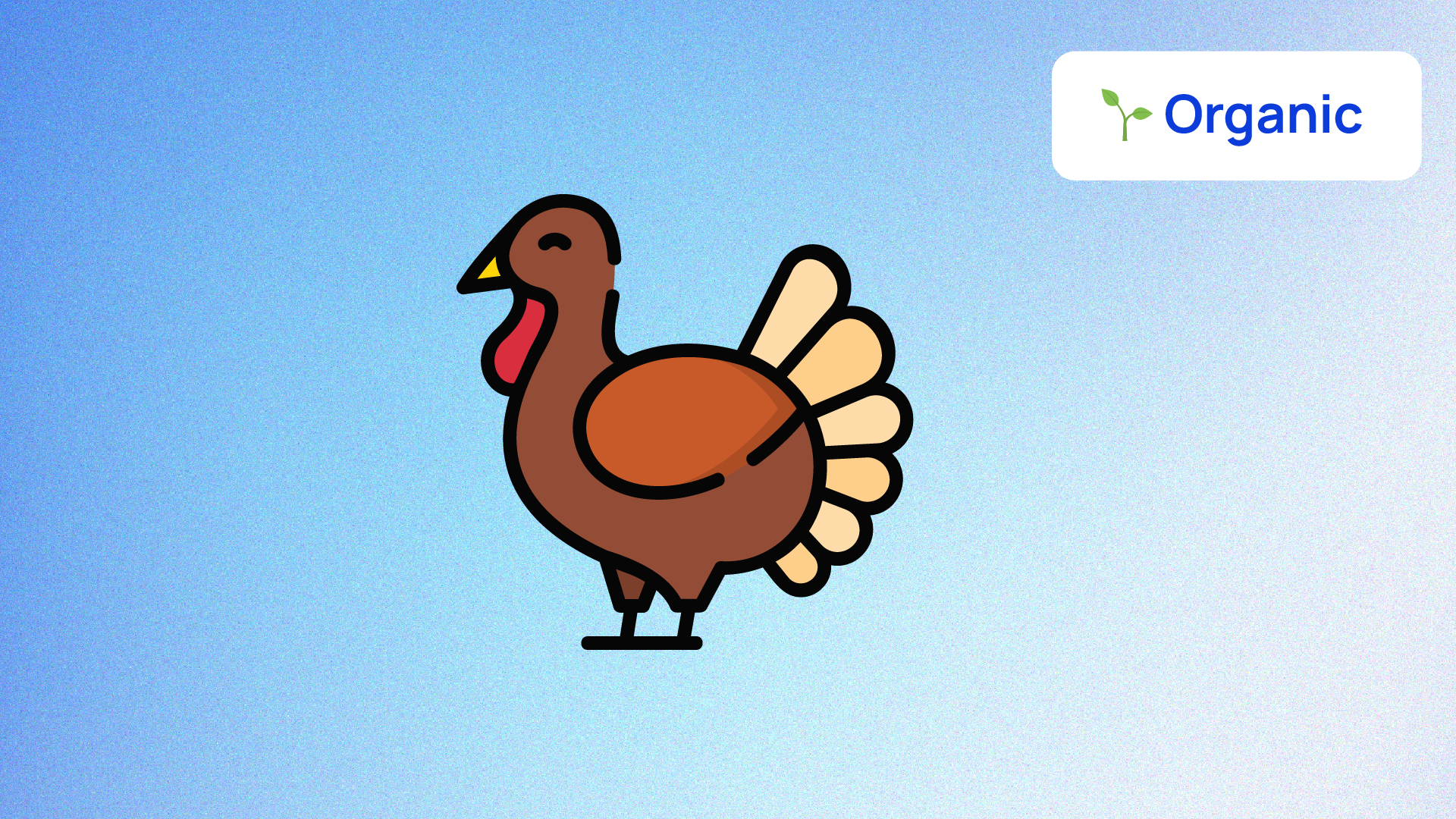 Thanksgiving is a time for expressing gratitude, but it's also an excellent opportunity for businesses to engage with their audience.
In this blog post, we will explore the 11 best Thanksgiving social media posts ideas specifically tailored for brands and businesses. These ideas for social media will inspire you to create compelling content, enhances brand visibility, and drives engagement.
Thanksgiving for Businesses
Before diving into the post ideas, let's discuss why it is important for businesses to communicate during Thanksgiving. This holiday provides an ideal occasion for brands to express gratitude to their customers, employees, and partners.
By acknowledging their support and loyalty, businesses can strengthen relationships and foster a sense of community. Furthermore, Thanksgiving presents an opportunity to showcase your brand's values, personality, and commitment to providing exceptional products or services. Engaging with your audience during this time can increase brand visibility, loyalty, and ultimately drive sales.
Do's and Don'ts of Thanksgiving Social Media Posts for Businesses
Do's:
Do Express Gratitude

: Take the opportunity to thank your audience, employees, and partners for their support and contributions throughout the year.

Do Share Meaningful Content

: Create posts that align with the spirit of Thanksgiving. Share inspiring stories, helpful tips, and heartwarming moments that resonate with your audience.

Do Promote Generosity

: Encourage your followers to give back by participating in charitable initiatives or volunteering. Highlight your brand's own philanthropic efforts and partnerships.

Do Highlight Your Employees

: Showcase your team and recognize their hard work and dedication. Share behind-the-scenes glimpses and employee spotlights to humanize your brand.
Do Offer Exclusive Thanksgiving Deals: Provide special discounts, promotions, or giveaways to your social media followers as a token of appreciation.

Do Create Interactive Contests

: Engage your audience by hosting Thanksgiving-themed contests or challenges. Encourage user-generated content, such as sharing favorite recipes, memories, or creative artwork.

Do Share Festive Recipes and Tips

: Provide your audience with delicious recipes, cooking tips, or decorating ideas for Thanksgiving.
Dont's:
Don't Be Overly Promotional: Avoid using Thanksgiving solely as a marketing opportunity. Instead, focus on building meaningful connections and expressing gratitude.
Don't Ignore Social Media Engagement: Respond promptly and genuinely to comments, messages, and mentions. Thanksgiving is a time for connection, so actively engage with your audience to show that you value their interactions and feedback.

Don't Be Insensitive

: Be mindful of diverse cultures and traditions during the holiday season. Respect and appreciate the different ways people celebrate Thanksgiving and tailor your content accordingly.

Don't Overshadow the Meaning of Thanksgiving

: While it's important to drive sales, remember to prioritize the essence of Thanksgiving. Focus on gratitude, community, and giving back, rather than solely on commercial aspects.

Don't Neglect Social Responsibility

: Thanksgiving is a time to reflect on your brand's impact and responsibilities. Avoid posting content that contradicts your brand values, or that may be seen as insensitive or controversial.

Don't Neglect Planning:

Plan your social media content ahead of time to ensure consistency and a cohesive Thanksgiving campaign. Develop a content calendar, schedule posts in advance, and monitor the performance of your content to make adjustments as needed.

Don't Forget to Analyze Results

: After the Thanksgiving season, review your social media analytics to understand the impact of your posts. Assess engagement, reach, and conversions to gauge the effectiveness of your Thanksgiving campaign. Use these insights to inform your future social media strategies.
11 Thanksgiving Social Media Posts Examples & Ideas
In this section, we will provide you with inspiring examples of Thanksgiving posts for social media from real brands. These examples will help you craft content that resonates with your audience, encourages interaction, and embodies the spirit of gratitude. If you're searching for Thanksgiving social media posts for companies, we've got you covered.
1. Express Gratitude
Craft a heartfelt message thanking your customers for their support throughout the year. Highlight specific ways in which their patronage has contributed to your business's growth and success.
2. Give Back
Showcase your brand's commitment to social responsibility by highlighting a charitable initiative or partnership. Encourage your followers to get involved by volunteering or donating to a cause aligned with the spirit of Thanksgiving.
3. This or That: Thanksgiving edition
Engage your audience by creating a fun "This or That" post with a Thanksgiving twist. Ask them to choose between two Thanksgiving-related options, such as pumpkin pie or apple pie, or football or board games. This interactive post encourages participation and sparks conversations among your followers.
4. Employee Spotlights
Recognize and appreciate your employees by featuring them in dedicated posts. Share their stories, accomplishments, and contributions to your business's success. This humanizes your brand and showcases your commitment to your team.
5. Thanksgiving Recipe
Share a delectable Thanksgiving recipe that aligns with your brand's values or resonates with your audience. Invite followers to try a traditional dish or a unique twist. Provide step-by-step instructions for them to follow.
6. New ways to celebrate Thanksgiving by integrating your brand
Showcase how your brand can be a part of your audience's Thanksgiving celebrations. Share unique ideas and suggestions on how to incorporate your products or services into their festivities.
7. Tips for a Stress-Free Thanksgiving
Share practical tips and advice for a successful and stress-free Thanksgiving day. Provide value to your audience by positioning your brand as a helpful resource during the holiday season.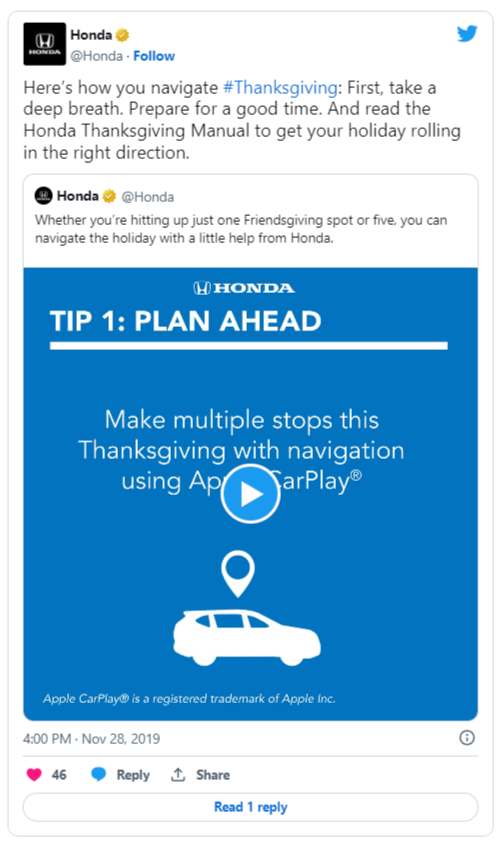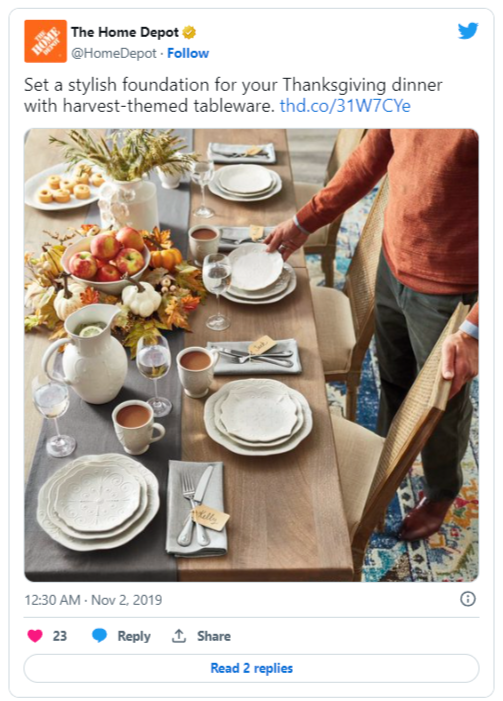 8. Nostalgic posts
Tap into the nostalgic sentiments associated with Thanksgiving by sharing throwback photos, stories, or memories. Encourage your audience to do the same, creating a sense of connection and nostalgia. This type of post evokes warm emotions and fosters engagement as people reflect on their favorite Thanksgiving moments.
9. Thankful Customer Testimonials
Highlight and feature your loyal customers by sharing their comments, stories, or experiences with your brand. This not only shows appreciation for their support but also builds social proof and trust among your audience.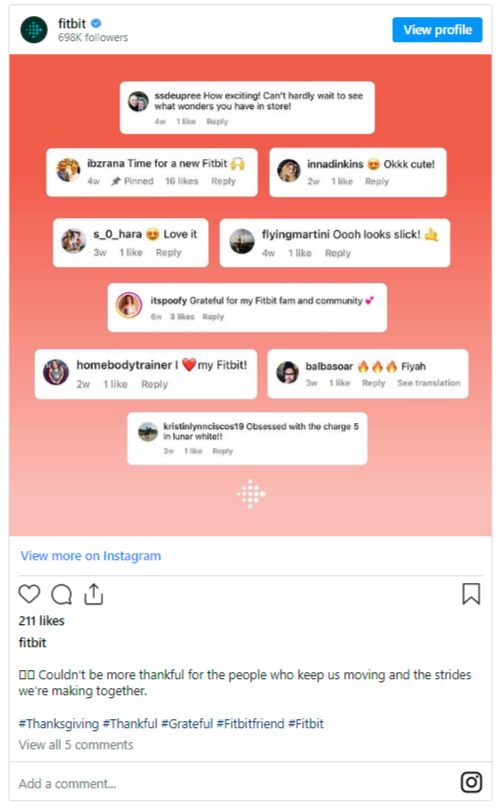 10. Thanksgiving Giveaway
Show appreciation for your followers by hosting a Thanksgiving-themed giveaway. This not only generates excitement but also increases brand visibility and engagement during the holiday season.
11. Preview Black Friday and Cyber Monday Deals
Generate anticipation for upcoming holiday sales by providing a sneak peek of exclusive discounts and offers.
Thanksgiving is an opportune time for brands and businesses to connect with their audience on social media. Remember to express gratitude, share authentic stories, and provide valuable resources to make this Thanksgiving season truly memorable for your audience. Celebrate the spirit of Thanksgiving, strengthen relationships, and drive business growth through meaningful social media campaigns.
With strategic planning and creative execution, you can captivate your audience and make your brand stand out during this holiday season. Happy Thanksgiving!