Holidays
Pride Month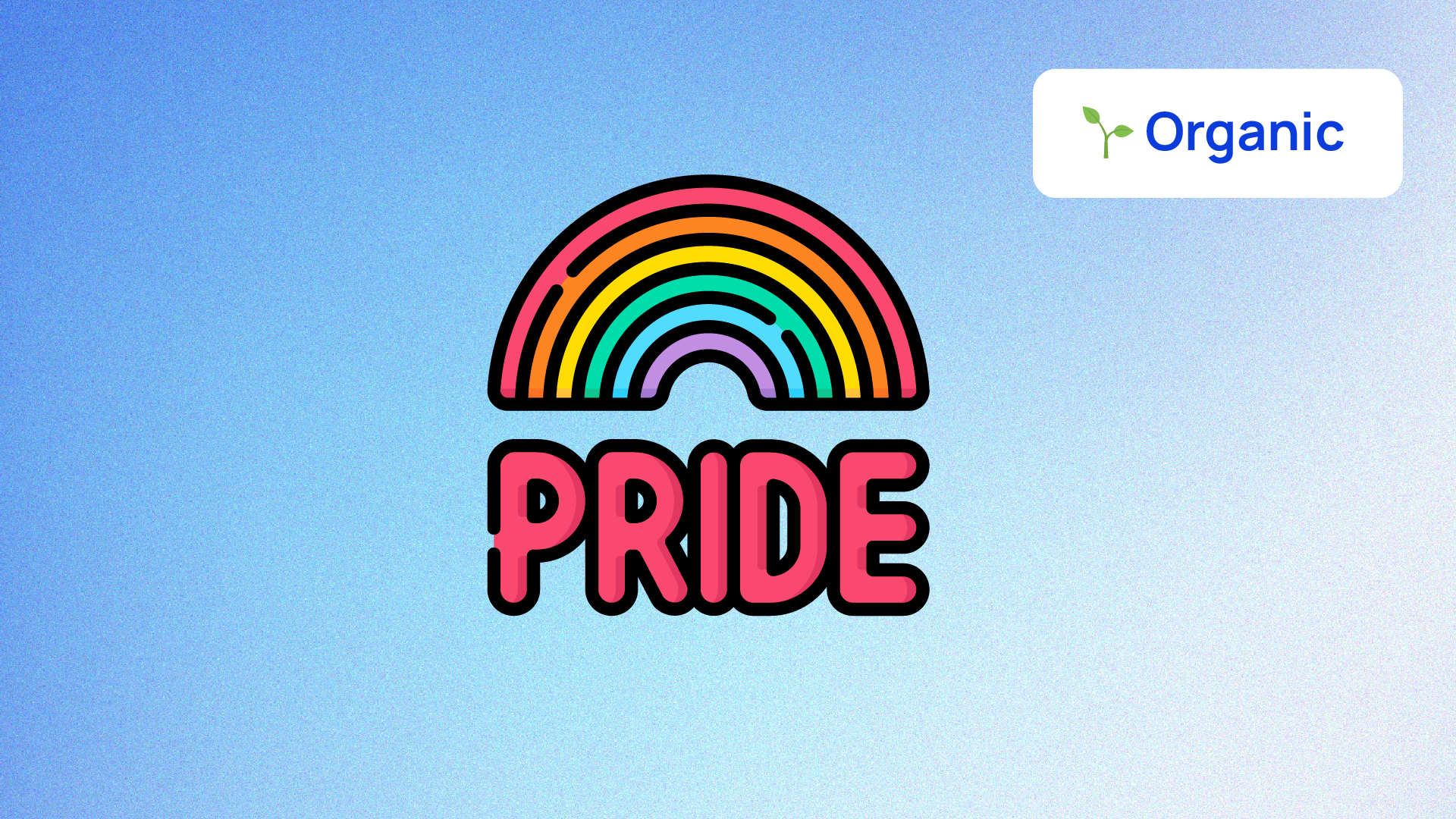 Are you looking for inspiration for your brand's social media content during Pride Month? As June approaches, brands begin to prepare for Pride Month, a time to celebrate and support the LGBTQ+ community. We have compiled a list of 8 impactful examples to help your brand make a positive impact and show support.
Table of content
#1 - Skittles
Skittles launched a unique campaign for Pride in 2022 by turning its colorful packaging grey. This celebrates the LGBTQ+ community by giving up its iconic rainbow in favor of the Pride rainbow. The campaign encourages people to buy limited-edition grey packs, with some of the proceeds donated to LGBTQ+ charities.
Why We Love This Pride Month Social Media Post:
Skittles removed the rainbow from its packaging, showcasing its social responsibility commitment to the LGBTQ+ community in an innovative way.
Skittles donated a portion of its profits to LGBTQ+ charities, supporting the community through action, not just awareness.
Skittles' active engagement in listening and responding to positive feedback from the LGBTQIA community and its allies is commendable.


#2 - Fossil
Fossil launched a Pride campaign to encourage LGBTQ+ individuals to speak up about Pride, pronouns, allyship, and more. They shared different stories and posts across their social channels to elevate these voices.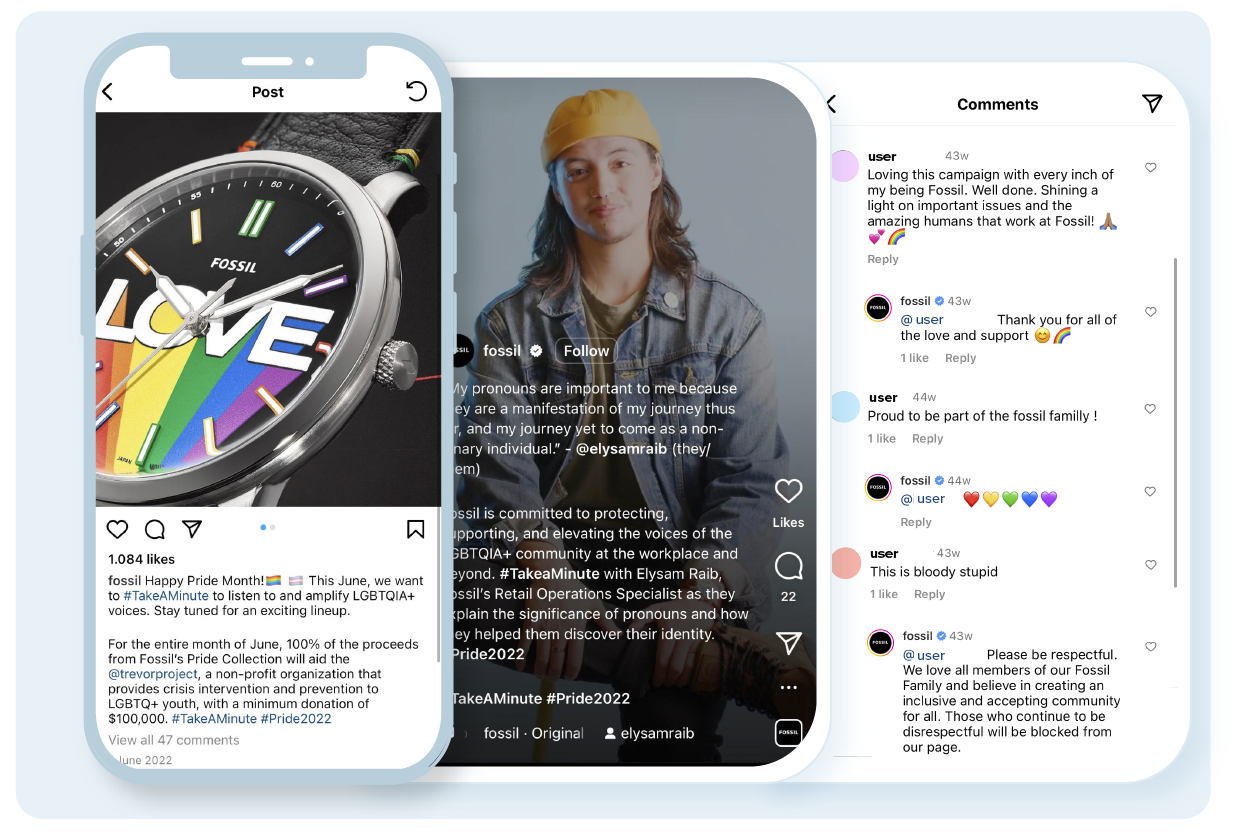 Why We Love This Pride Month Social Media Post:
Fossil's "Take A Minute" campaign is part of its commitment to driving diversity, equity, and inclusion. They have a DE&I strategy to create an environment where everyone is welcome, reflecting their communities' diversity.
This campaign shares LGBTQ+ voices and experiences to tell authentic stories that positively impact society and contribute to the conversation. Besides, they donated to the Trevor Project to raise awareness and save lives.
Fossil is moderating and responding to harmful comments on social media towards their community. This demonstrates the brand's values and commitment to its social media policy again.


#3 - Bombas
Bombas launched a collection to celebrate the LGBTQ+ community and address the issue of homelessness, which disproportionately affects this community. They pledged to donate an item of clothing to organizations that support homeless LGBTQ+ communities for every purchase from their LGBTQ+ collection. This campaign aligns with Bombas' mission of creating positive change and making a meaningful impact in people's lives.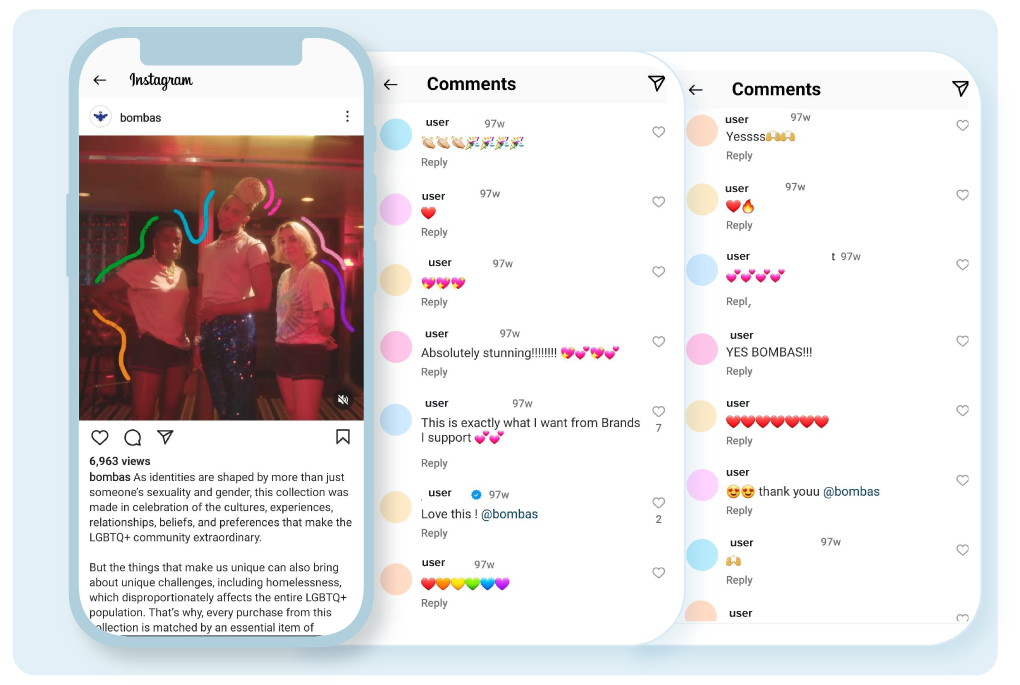 Why We Love This Pride Month Social Media Post:
Bombas' donation program supports homeless LGBTQ+ communities, showcasing their commitment to making a positive impact.
The brand's focus on celebrating the diversity within the LGBTQ+ community aligns with their mission of inclusivity and diversity.
The positive social media engagement on social media. There are many comments expressing support for the brand's actions.


#4 - Lucy & Yak
Lucy & Yak is a UK-based clothing brand that supports the trans community through their inclusive sizing system. Their singular sizing system is a step towards inclusivity and diversity in the fashion industry.
The brand celebrates Pride year-round, offering a range of rainbow-themed items. During Pride Month, they used user-generated content to showcase their fans in Pride parades and events. This sets them apart from other brands that only acknowledge and support the LGBTQ+ community during Pride Month.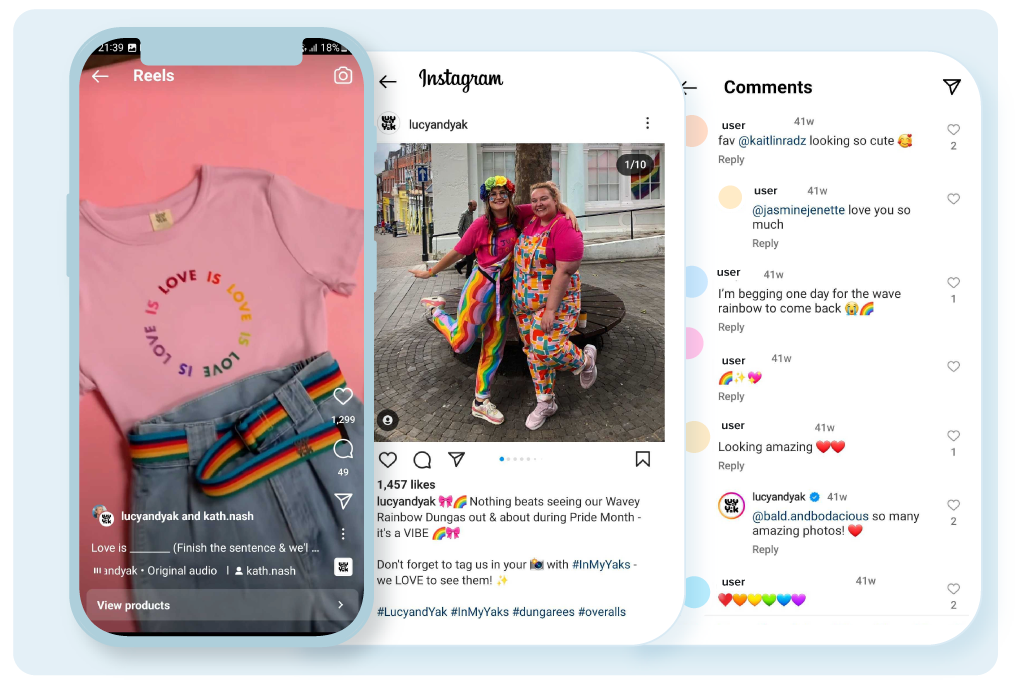 Lucy and Yak's community loves to leave comments showing support
Why We Love This Pride Month Social Media Post:
The use of UGC featuring their Pride-themed clothing in different events highlights their active support for the LGBTQ+ community.
By offering sustainable and stylish Pride-themed clothing year-round, Lucy & Yak is setting a high standard for other brands.
The brand's responses to social media comments build customer loyalty and show that they genuinely care about their customers' opinions.


#5 - Jecca Blac
Jecca Blac is a UK-based makeup brand with an inclusive and gender-neutral approach to makeup. They offer versatile products for all skill types and support LGBTQ+ charities and organizations year-round. For the London Pride 50th anniversary, the brand partnered with five LGBTQ+ content creators. Content creators, writers, and artists shared their perspectives on the significance of the milestone and their hopes for the future.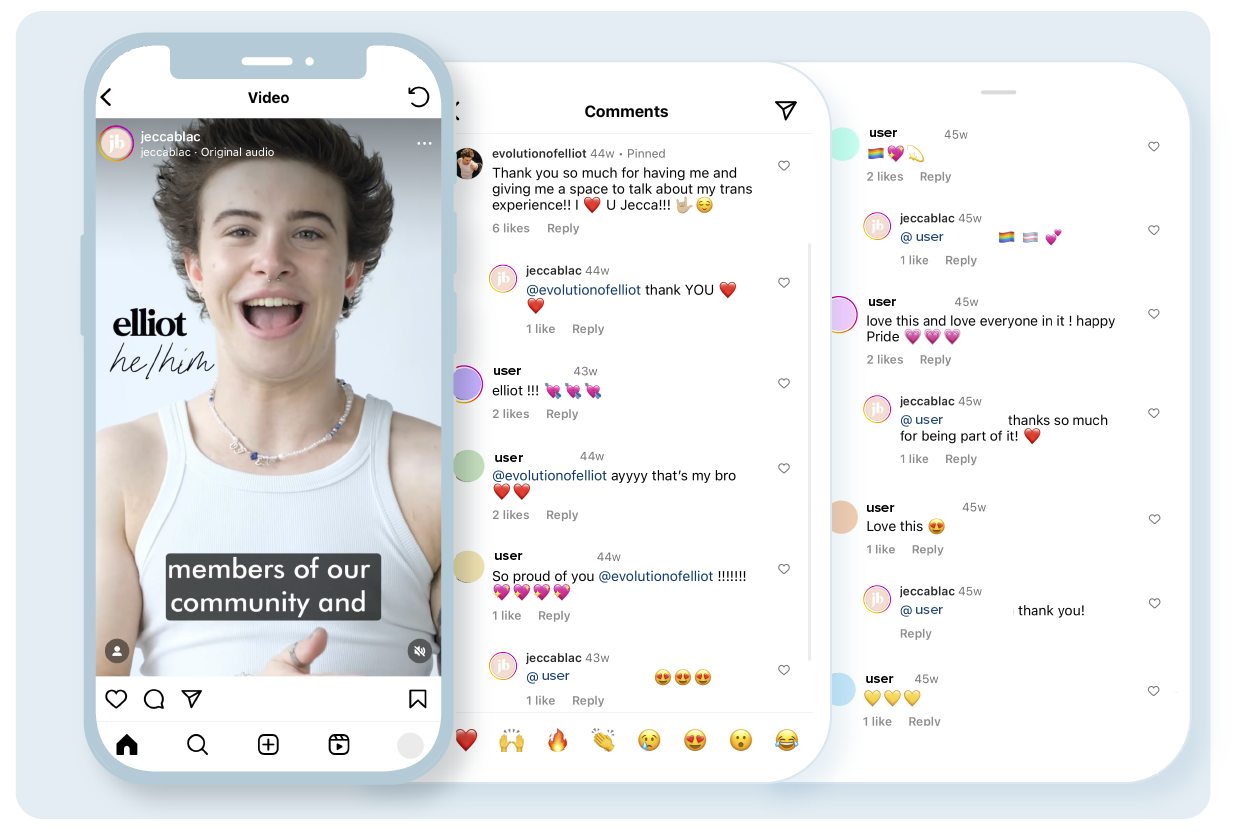 Jecca Black received many positive comments
Why We Love This Pride Month Social Media Post:
Jecca Blac is a timely campaign celebrating the 50th anniversary of London Pride featuring diverse LGBTQ+ individuals.
The campaign uses real people sharing their experiences and perspectives on Pride. This adds authenticity and power to the message of community support.
By promoting the message of Pride without pushing their products, Jecca Blac's campaign shows their genuine commitment to the LGBTQ+ community.


#6 - Isle of Paradise
Isle of Paradise is a self-tanning beauty brand that emphasizes natural and organic ingredients and promotes body positivity and diversity. For Pride Month 2022, they partnered with skincare brand Peace Out to release a limited-edition Pride Bundle. They also donated 20% of the proceeds to The Trevor Project, a suicide prevention and mental health organization for LGBTQIA+ people.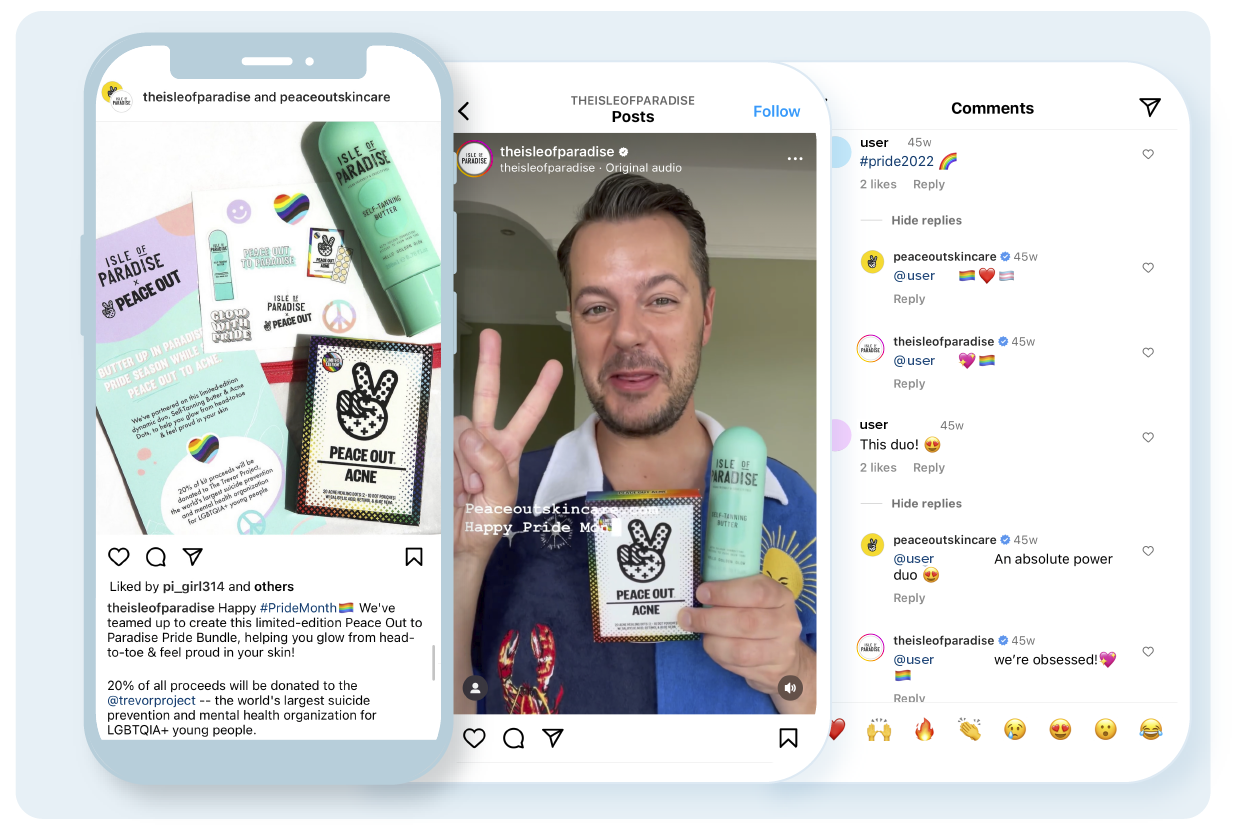 Why We Love This Pride Month Social Media Post:
Two beauty brands with shared values partnered to create a unique product for their audience.
The founders' commitment to the partnership was reflected in positive user comments and brand interactions.
The donation to a nonprofit supporting LGBTQIA+ aligned with young consumers' desire for brands to take a stand on social issues.


#7 - Savage x Fenty
During Pride Month, Savage x Fenty launched a special collection celebrating every body. They also donated a portion of their sales to GLAAD, a non-profit LGBTQ+ advocacy organization.
They also partnered with Clara Lionel Foundation to make a donation that will support Black queer and transgender women struggling to pay for gender-affirming surgeries.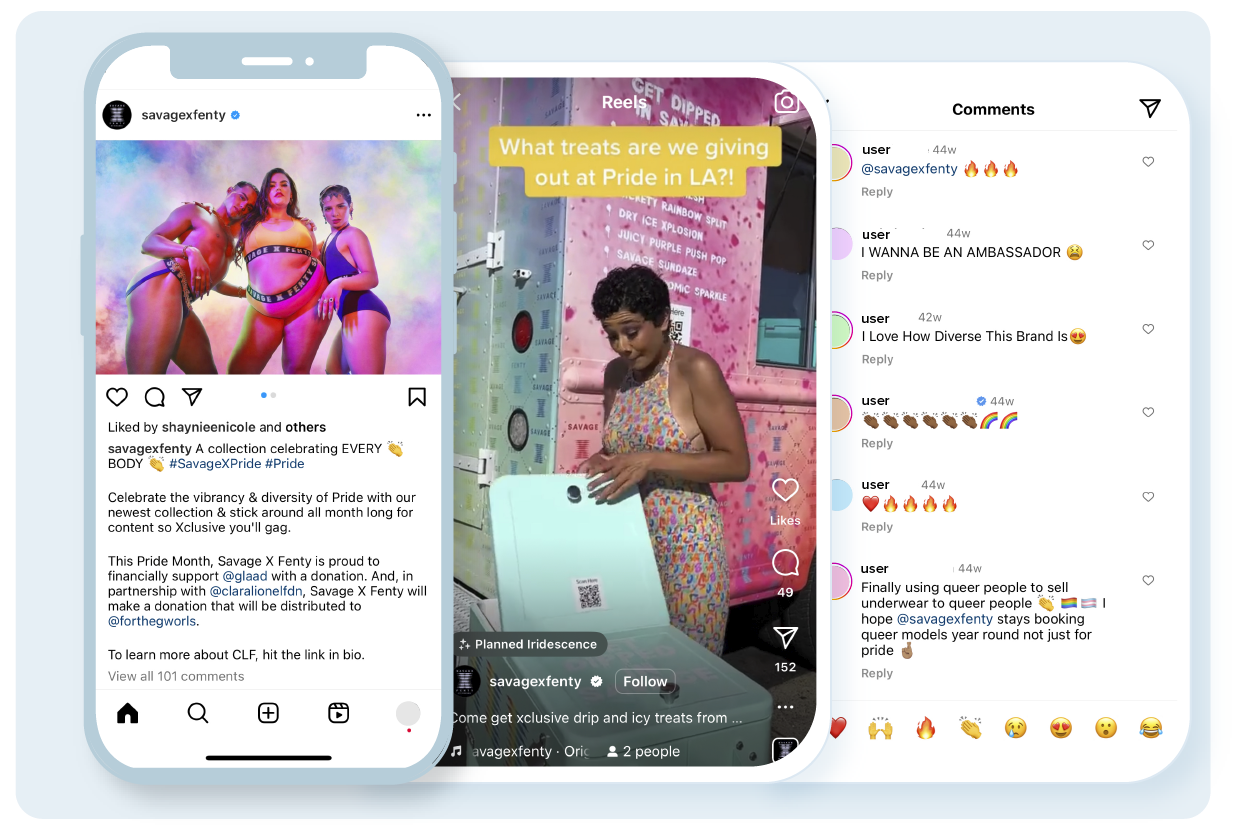 The brand is known for its inclusive sizing and diverse marketing campaigns that celebrate different body types, skin tones, and gender identities.
Why We Love This Pride Month Social Media Post:
They posted more than 15 social media posts about Pride Month, and they featured models of different genders and sexual orientations.
Savage x Fenty's support for the LGBTQ+ community goes beyond performative gestures. The brand takes concrete actions, such as partnering with GLAAD to raise funds for transgender rights.
The diverse representation on their ads and posts all year round sends a clear message of inclusivity and acceptance.


#8 - Chromat
Chromat is a fashion brand that champions inclusivity and diversity year-round. They offer a wide range of sizes and collaborate with underrepresented communities. The brand's focus on positivity on social media is a good example of promoting diversity and inclusion. In 2021, they collaborated with Tourmaline to create a line of swimsuits for all genders and identities.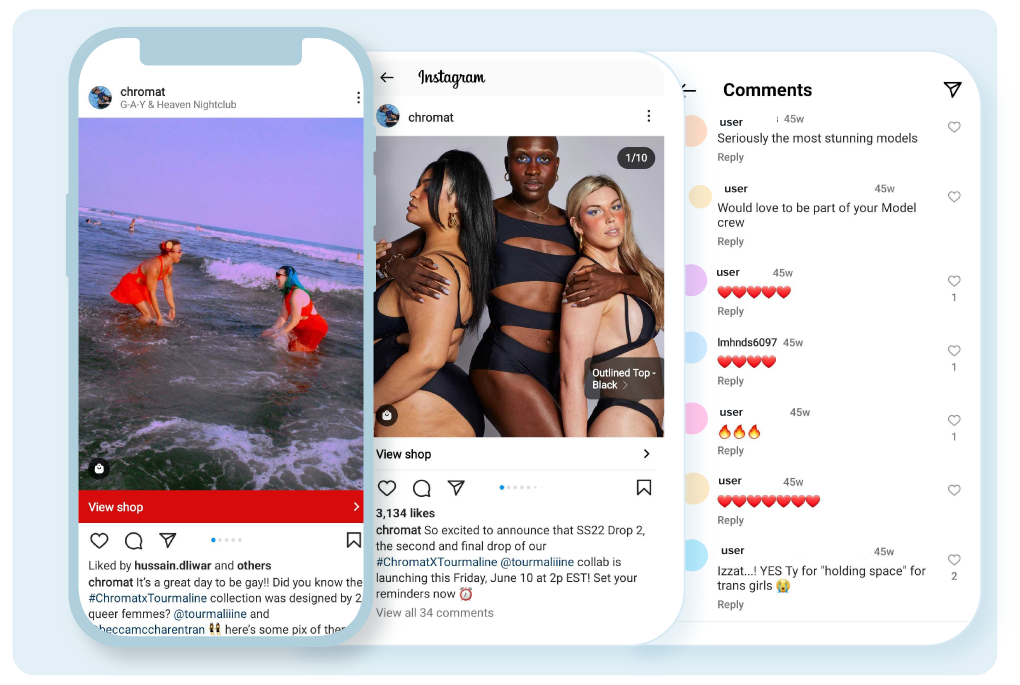 Why We Love This Pride Month Social Media Post:
Chromat's commitment to celebrating diversity year-round and empowering underrepresented communities is truly inspiring.
Their inclusive philosophy is reflected in their size range, collaborations, and campaigns that celebrate people of all genders and body types.
Their comment section is one of the most positive we've seen, as they have cultivated a supportive community. Chromat's approach serves as an example of how brands can shift the industry toward a more diverse and equitable future.


#9 - H&M
H&M's Pride campaign aims to go beyond the rainbow colors and celebrate the true meaning behind the Pride flag. The campaign features powerful stories and perspectives from members of the LGBTQ+ community, highlighting their experiences and struggles.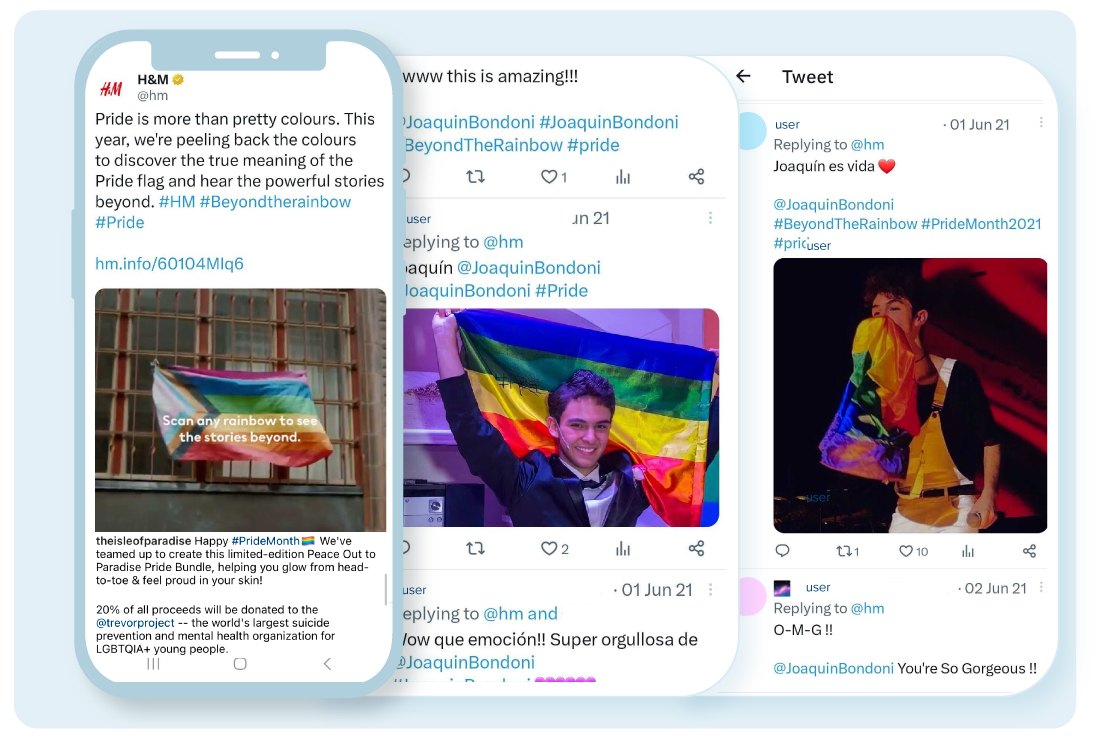 Why we love this Pride Month social media post:
H&M is using their platform to raise awareness and educate their audience about the deeper meaning of the Pride flag.
The campaign is inclusive and features diverse voices from the LGBTQ+ community.
By sharing powerful stories and experiences, H&M is creating a sense of community and celebrating the resilience and strength of the LGBTQ+ community.


#10 - YouTube
The YouTube Pride campaign encourages creators and viewers alike to join the #YouTubePrideChallenge to show support for the Trevor Project and LGBTQ+ youth.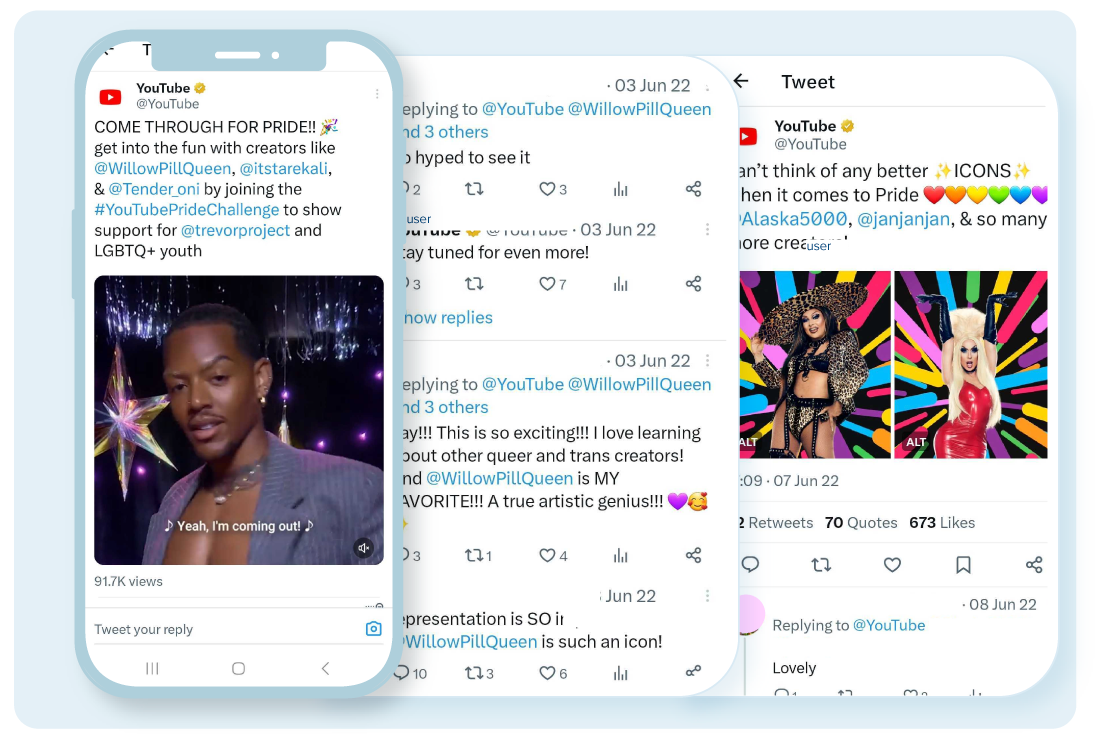 Why we love this Pride Month social media post:
It highlights the importance of supporting LGBTQ+ youth, who are often at higher risk for mental health challenges.
It showcases a diverse group of creators who are using their platforms to uplift and celebrate the LGBTQ+ community.
It encourages engagement and participation from viewers, making it a more community-focused campaign.
Pride Month is an opportunity for brands to demonstrate their support for the LGBTQ+ community through social media. However, brands must also be prepared to handle hateful and negative comments on their posts. Brands can make a positive impact by committing to supporting the community beyond Pride Month.