Holidays
Memorial Day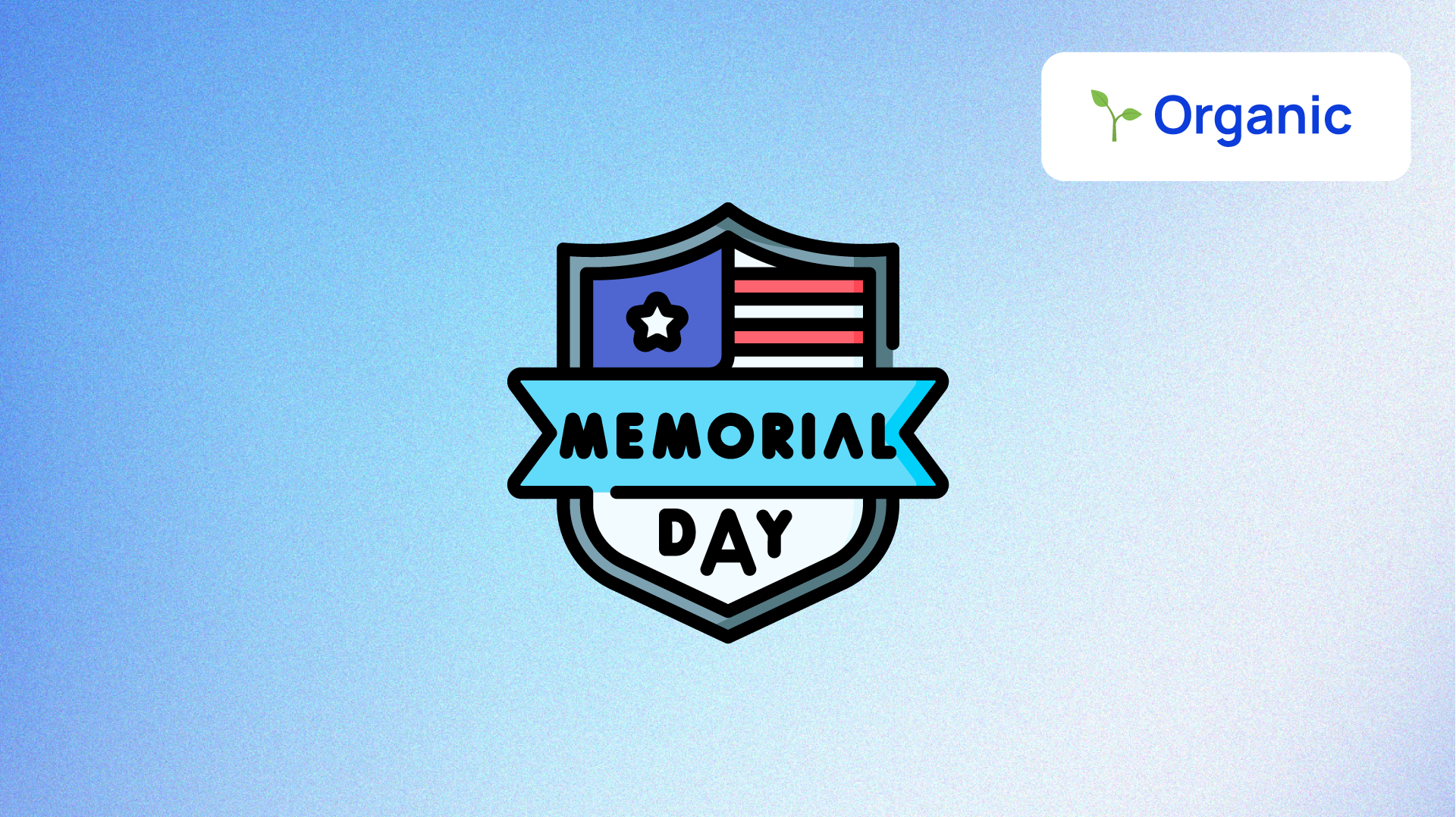 Memorial Day is a federal holiday in the United States. It is a day of remembrance to honor all those who have died in service to the US.
Brands have an opportunity to pay their respects and connect with their audience by creating genuine memorial day posts. Delve into 9 Memorial Day post ideas and fundamental tips for properly recognizing this important day.
Dos & Don'ts Regarding What to Post this Memorial Day
Brands need to be mindful of the solemnity of the occasion and avoid posting insensitive or inappropriate messages. Here are the do's and don'ts for memorial day posts on social media:
DOs

DON'Ts:
✔️ Show appreciation for the brave men and women who have served the country.
✔️Share relevant historical facts and events about Memorial Day.
✔️ Offer discounts or promotions for veterans or military families.
✔️Recognize and celebrate stories of military heroes and their contributions.
✔️ Use respectful and patriotic imagery and language.
✔️Donate a portion of your sales to a veterans' organization or charity.
✔️Show what your brand is doing to support the military community
✔️Be authentic. If Memorial Day appears forced or inauthentic for your brand, it may be the right choice not to post at all.
❌ Use Memorial Day as a marketing opportunity without showing respect for the holiday's true meaning..
❌Use language, tone, or imagery that could be perceived as insensitive.
❌Over-promote sales or discounts without showing appreciation for the holiday's true meaning.
❌Exploit the holiday for personal gain without giving back to the military community.
❌Say "Happy Memorial Day". For many people, this is a deeply personal and sad day, not a celebration.
❌Confuse Memorial Day with Veterans Day. Memorial Day is for remembering fallen soldiers, while Veterans Day honors all who served.
10 Memorial Day Social Media Posts Ideas with Real Examples
1. Explain what this day is all about
🇺🇸 Type "Memorial Day" into Search to find a banner of the U.S. flag, a video of "Taps"—the traditional bugle call played at military memorials—and other information about this important day. pic.twitter.com/fgs3IdEGbc

— Google (@Google) May 25, 2020
Google posted a video on Twitter that showcased what users can learn by searching "Memorial Day" on their platform. Google helped to educate their audience and pay tribute to those who have made the ultimate sacrifice for their country.
2. Partner with a charity that supports active-duty service members and military families
Jipe partnered with the USO (United Service Organizations) to honor fallen heroes on Memorial Day and support active-duty military initiatives. They encouraged followers to contribute. By doing so, Jipe showed their commitment to the military community.
3. Share what your brand and team is doing to pay tribute
For several years, Lowe's associates have created Memorial Day parking space tributes in honor of those who made the ultimate sacrifice.

Take a look at some of the tributes on display at stores across the country this year.

— Lowe's Media (@LowesMedia) May 30, 2022
Lowe's honored Memorial Day by creating parking space tributes across the country to honor fallen soldiers. Using a Twitter thread, they shared photos from different locations.
4. Share powerful quotes and imagery
Let's join together on Memorial Day to honor those who gave all in service to our nation. Who will you remember? #PoppyInMemory

— USAA (@USAA) May 3, 2022
USAA's Memorial Day Facebook post used a powerful image to honor and remember military members. The poppy image and quote added sentiment to the post, creating a personal and meaningful connection with the audience.
5. Share patriotic products that donate a portion of the profits to military charities
Our limited-edition summer patriotic cans are here!

Make these red, white, and blue cans the star of your summer plans - just in time for Memorial Day. Every time you pick up a case this summer we will donate $1 to @FoldsofHonor up to $75k. pic.twitter.com/AL2GHYuDEY

— Budweiser (@budweiserusa) May 17, 2021
Budweiser's post promotes their limited-edition patriotic cans. This shows their commitment to supporting military families by donating to Folds of Honor for every case sold. Folds of Honor is a nonprofit organization that helps provide for the families of fallen and disabled service members.
6. Share an encouraging real story of a veteran hero
Pet Supplies Plus shared the story of Nemo, the first official K9 veteran, and his handler, Airman Thorneburg. Despite being injured, Nemo stayed strong and bravely defended his handler until medical help arrived. Both survived and went on to live full lives, inspiring countless handlers in training.
7. Share a photo of the American flag and include a heartfelt message of gratitude.
Collins Aerospace's memorial day post included a photo of the American flag and a message of gratitude. The post highlights the gratitude for those who made the ultimate sacrifice in the line of duty.
8. Share ideas on how to honor the memory of U.S. military members
The National Park Foundation provided a list of ideas for honoring U.S. military members in national parks. They highlighted the historical significance of many national parks as sites of military battles and past use by the military.
9. Share a photo or video of the brand's commitment to supporting service members beyond Memorial Day
Today & every day we remember those who have fallen, as well as the men & women who serve our country, past & present. We thank you all for your service, including the people in our Dunkin' family, like Franchisee, Tali Burton. See Tali's inspiring story: https://t.co/hSxkE2khqd pic.twitter.com/NsNvNlC1rW

— Dunkin' (@dunkindonuts) May 27, 2019
To celebrate Memorial Day, Dunkin' shared a video on Twitter highlighting their commitment to supporting veterans. The video featured franchisee Tali Burton's inspiring story and dedication to providing job opportunities to those who have served the country. In the tweet, Dunkin' thanked all those who have served, including those within their own company. The video shows that Dunkin' is a brand that supports the military community, not just on Memorial Day.
10. Share a photo of a notable place or monument
To commemorate Memorial Day, Visit Washington DC shared a photo of the iconic Marine Corps War Memorial. The post was a poignant tribute to the men and women who made the ultimate sacrifice for their country.
By creating meaningful and authentic content, brands can connect with their audience and pay tribute to fallen service members.
Free 2023 Social Media Calendar