Holidays
Christmas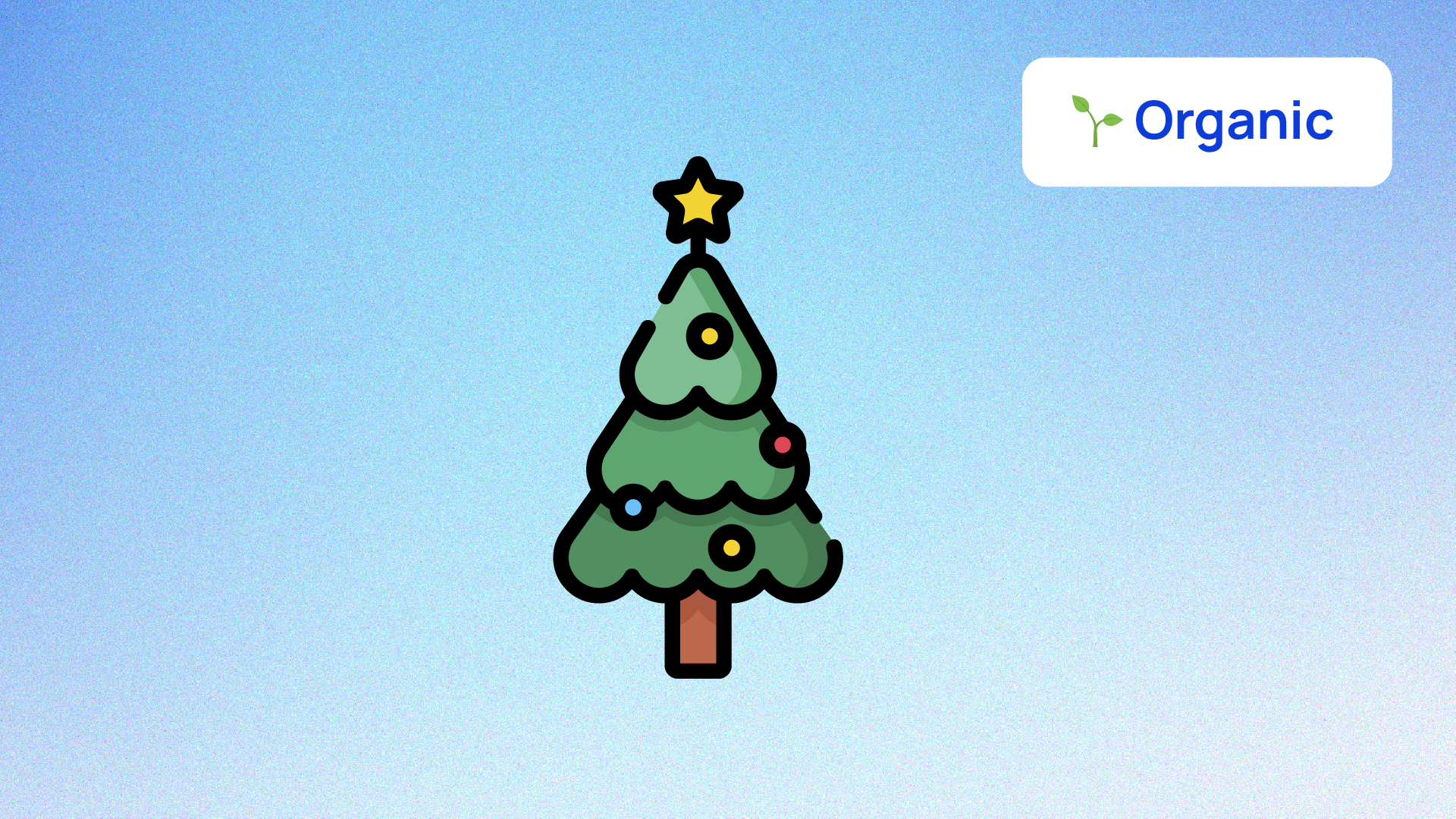 The holiday season is a magical time that presents businesses with a unique opportunity to connect with their customers. Christmas evokes feelings of warmth, joy, and nostalgia, making it the perfect occasion to engage your audience on a deeper level.
Beyond the emotional connection, Christmas also offers tremendous potential for increased sales and revenue. By striking a balance between sentimentality and sales, you can make this Christmas season special and successful.
Best practices for brands during Christmas
Embrace Inclusive Language: When communicating with your audience during the holiday season, it's essential to be mindful of inclusivity. Instead of exclusively using the term "Christmas," consider incorporating more inclusive language such as "holiday season" or "festive season." This approach ensures that your messaging resonates with those who celebrate different religious or cultural traditions during this time.
Tap into the Holiday Spirit: Christmas is a time of joy, generosity, and togetherness. Use social media as a platform to evoke these emotions and create a sense of shared celebration. Incorporate festive imagery, warm colors, and cheerful messages in your posts to capture the essence of the season. Infuse your brand's personality into your content while staying true to the holiday spirit.
Be Authentic: Let your brand's genuine values and personality shine through your social media communication. Avoid generic or overly promotional content that feels disconnected from the holiday season. Instead, tell stories, share experiences, and connect with your audience on a personal level. Authenticity fosters trust and strengthens the bond between your brand and your customers.
Provide Value: Use your social media platforms to offer value to your audience during this time of the year. This can be in the form of useful tips, Christmas recipes, gift ideas, DIY projects, or exclusive discounts. By providing valuable content, you position your brand as a helpful resource and increase the likelihood of engagement and conversions.
Monitor and Respond: Actively monitor your social media channels for comments, messages, and mentions during the Christmas season. Respond promptly and sincerely to customer inquiries, feedback, or concerns. Show your audience that you value their engagement and prioritize their satisfaction.


13 Christmas Social Media Posts Ideas for Businesses
'Tis the season to get creative with your social media strategy! As the holiday spirit fills the air, it's essential for businesses to engage their audience through captivating Christmas social media posts.
From brainstorming Christmas social media post ideas to crafting engagement-driven content and tailored posts for businesses, we've got you covered. Let's dive in and explore Christmas social media posts for businesses.
1. 12 days of Christmas approach
Embrace the excitement of the "12 Days of Christmas" social media idea by implementing a daily approach. Each day, reveal a new surprise, whether it's a limited-time discount, a sneak peek, or an exclusive product launch. This strategy keeps your audience engaged and eager to discover what's next.
12 days of Christmas marketing campaign idea. Bath & Body Works conducted a "12 Days of Christmas" campaign, revealing a new holiday-scented product each day. They offered exclusive discounts and promotions to encourage followers to shop for their favorite festive fragrances.
2. Showcase your unique Christmas tree with your products
This is a classic Christmas post for social media. Get creative with your Christmas decorations by showcasing an innovative Christmas tree made entirely from your products.
Whether it's a fashion brand using clothes as ornaments or a tech company using gadgets as decorations, this unique display will capture your audience's attention and highlight your brand's creativity.
H&M shared an Instagram post with a Christmas tree made with their clothes.
3. Run a Christmas Giveaway
Spread holiday cheer by hosting a Christmas giveaway on your social media platforms. Encourage your followers to participate by liking, commenting, and sharing the giveaway post. Offer a desirable prize that aligns with your brand and the holiday season.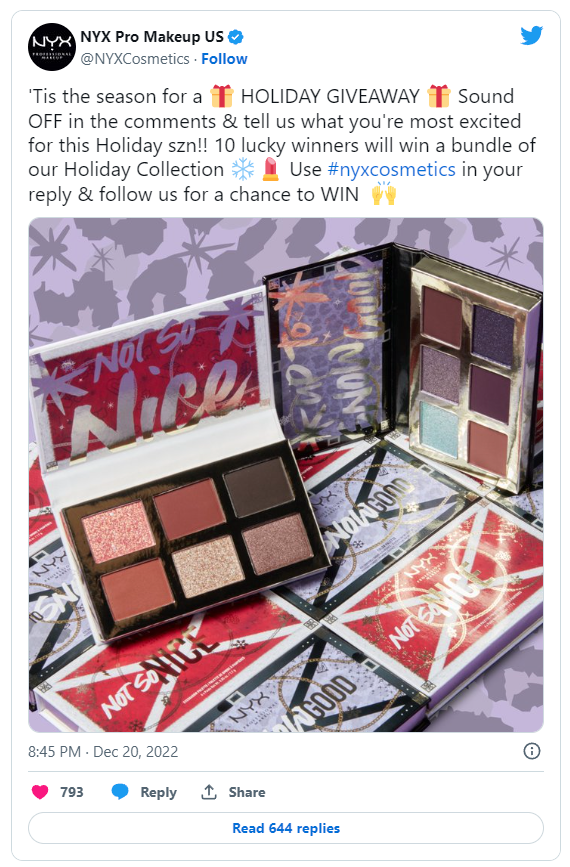 Christmas social media engagement post. NYX Cosmetic ran a Giveaway as part of their marketing strategy for the Holiday season.
4. Show your team volunteering
Demonstrate the spirit of giving back by sharing photos or videos of your team volunteering during the holiday season. Whether it's serving meals at a local shelter, participating in a toy drive, or organizing a charity event, documenting these acts of kindness humanizes your brand and showcases your commitment to making a difference.

5. Share your Christmas-themed products
Dedicate specific social media posts to showcase your Christmas products and highlight their unique features or benefits. This can be done through captivating product images, engaging videos, or informative tutorials.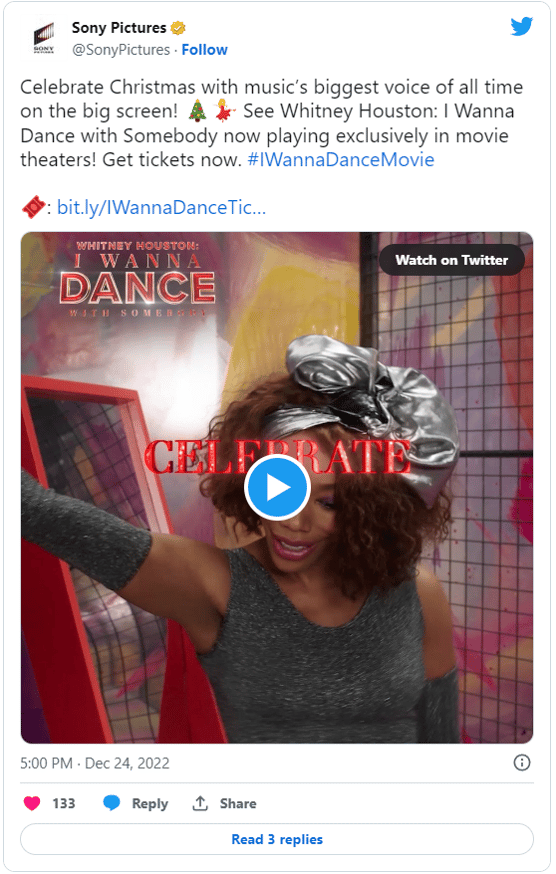 6. Get nostalgic
Tap into the nostalgia of the holiday season by sharing throwback photos or memories related to Christmas. Encourage your target audience to reminisce and share their own nostalgic moments.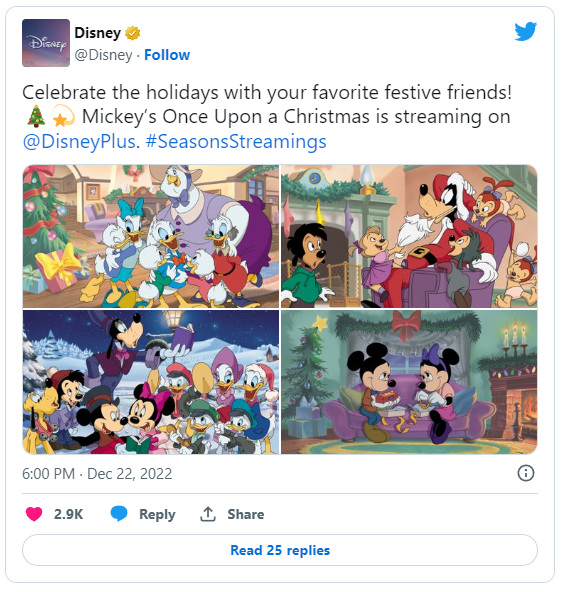 Disney successfully embraced nostalgia by posting vintage images, sparking conversations and creating a sense of warmth and familiarity among their followers.
7. Show family and children's stories
Highlight the importance of family and the joy of Christmas by featuring heartwarming moments with families and children. Share photos or videos of families enjoying your products or engaging in festive activities.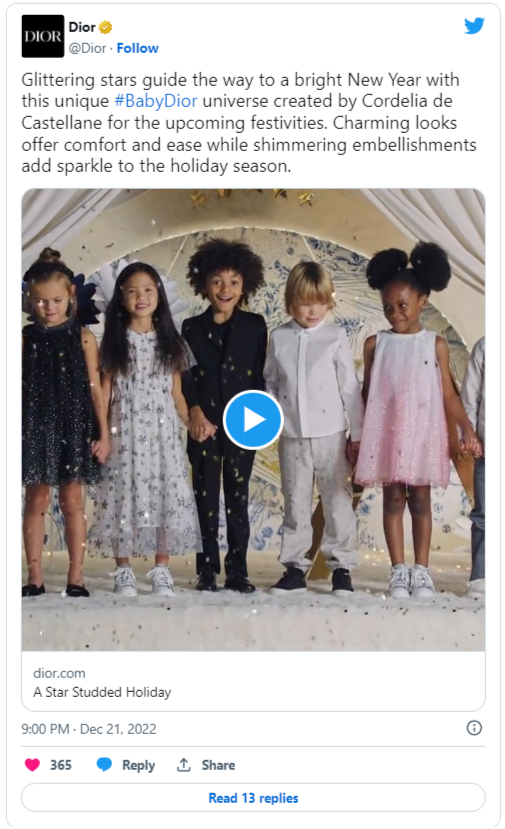 Dior shared videos of children having fun with Christmas decorations while wearing Dior clothes. This invokes feelings of togetherness and promotes their brand as an essential part of holiday traditions.
8. Show your store decorations
If you have a physical store, capture the holiday spirit by sharing photos or videos of your beautifully decorated storefront. Showcase eye-catching window displays, festive decorations, and enticing holiday promotions.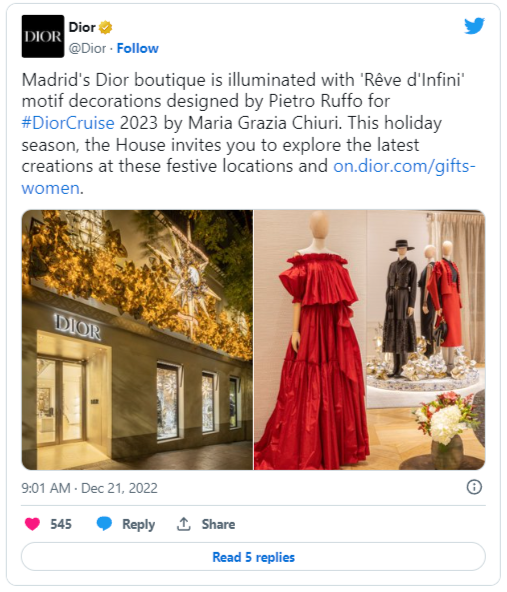 Dior used this strategy by sharing captivating images of their store adorned with twinkling lights, attracting foot traffic and online engagement.
9. Do a collaboration with another brand
Team up with a complementary brand for a special holiday collaboration. This can involve creating co-branded products, hosting joint events or giveaways, or cross-promoting each other's content.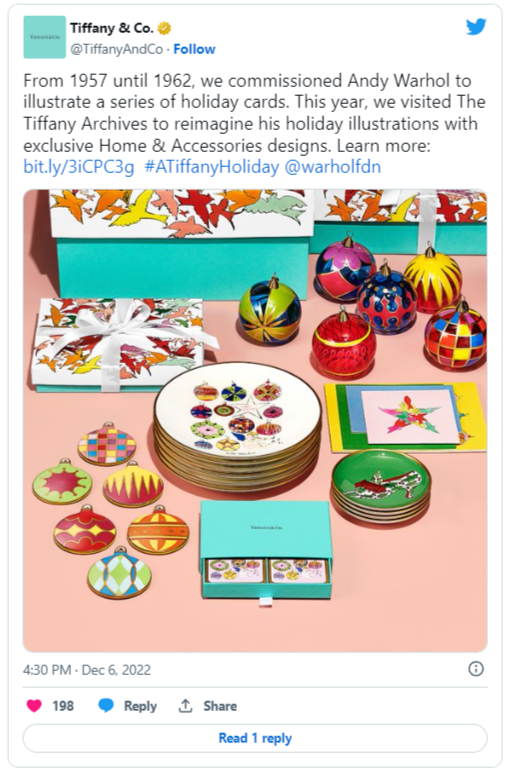 Tiffany & Co. partnered with The Andy Warhol Foundation to offer a limited-edition holiday gift set.
10. Interactive holiday polls
Engage your audience with interactive holiday polls and ask them to vote or provide their opinions on various Christmas-related topics. For example, a fashion brand could ask their followers to vote for their favorite holiday outfit.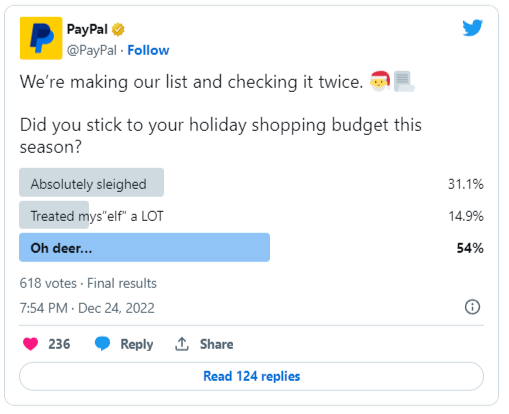 Social media Christmas interactive posts. Paypal implemented this strategy by running an interactive poll asking their audience if they stuck to their holiday shopping budget.
11. Provide gift guides and recommendations
Help your audience navigate the holiday shopping frenzy by creating comprehensive gift guides and recommendations. Categorize your suggestions based on recipients, interests, or price ranges.
Amazon curated a gift guide featuring their top picks for holiday gifts from small businesses on Amazon.
12. Seasonal Discounts and Promotions:
Entice your audience with exclusive seasonal discounts and promotions. Create a sense of urgency by offering limited-time deals or limited stock availability.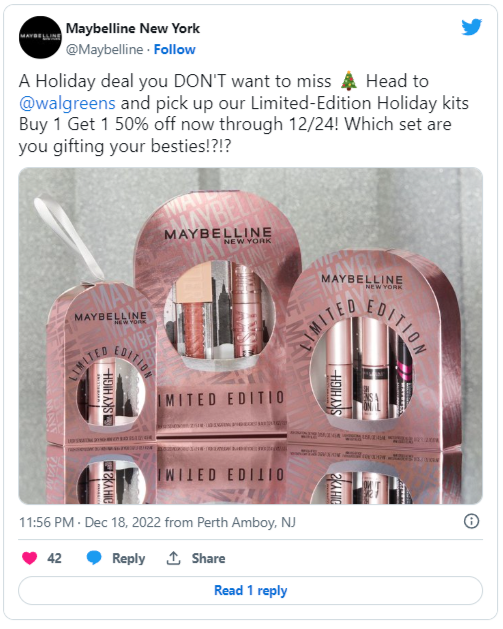 Maybelline New York launched an exclusive limited-edition holiday kit with an enticing promotion
13. Share new ways to celebrate Christmas by integrating your brand
Encourage your audience to celebrate Christmas in unique ways by integrating your brand into their festivities. Share innovative ideas, DIY projects, or recipes that incorporate your products or services.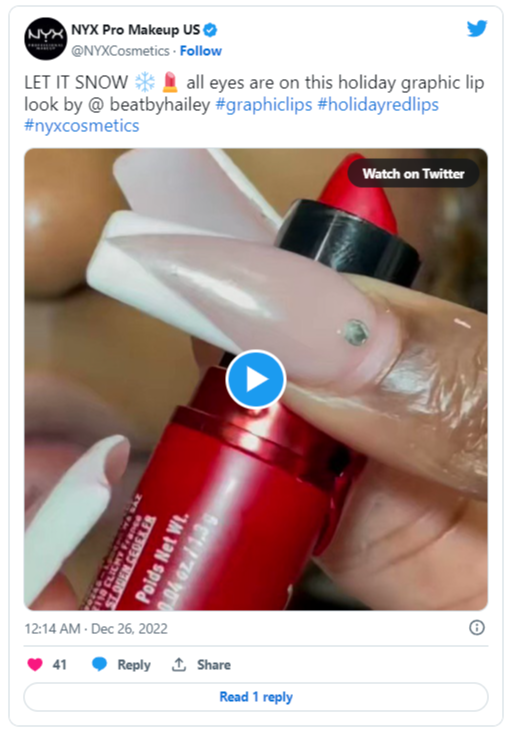 NYX Cosmetics shared a video from a follower showing how to use their products in a more festive way.
This holiday season, don't miss the opportunity to connect with your audience through captivating Christmas social media posts and campaigns. Embrace the holiday magic, ignite conversations, and leave a lasting impact on your followers' hearts and minds. 'Tis the season for remarkable social media posts that will make your business shine bright this Christmas.