Organic
LinkedIn (B2C)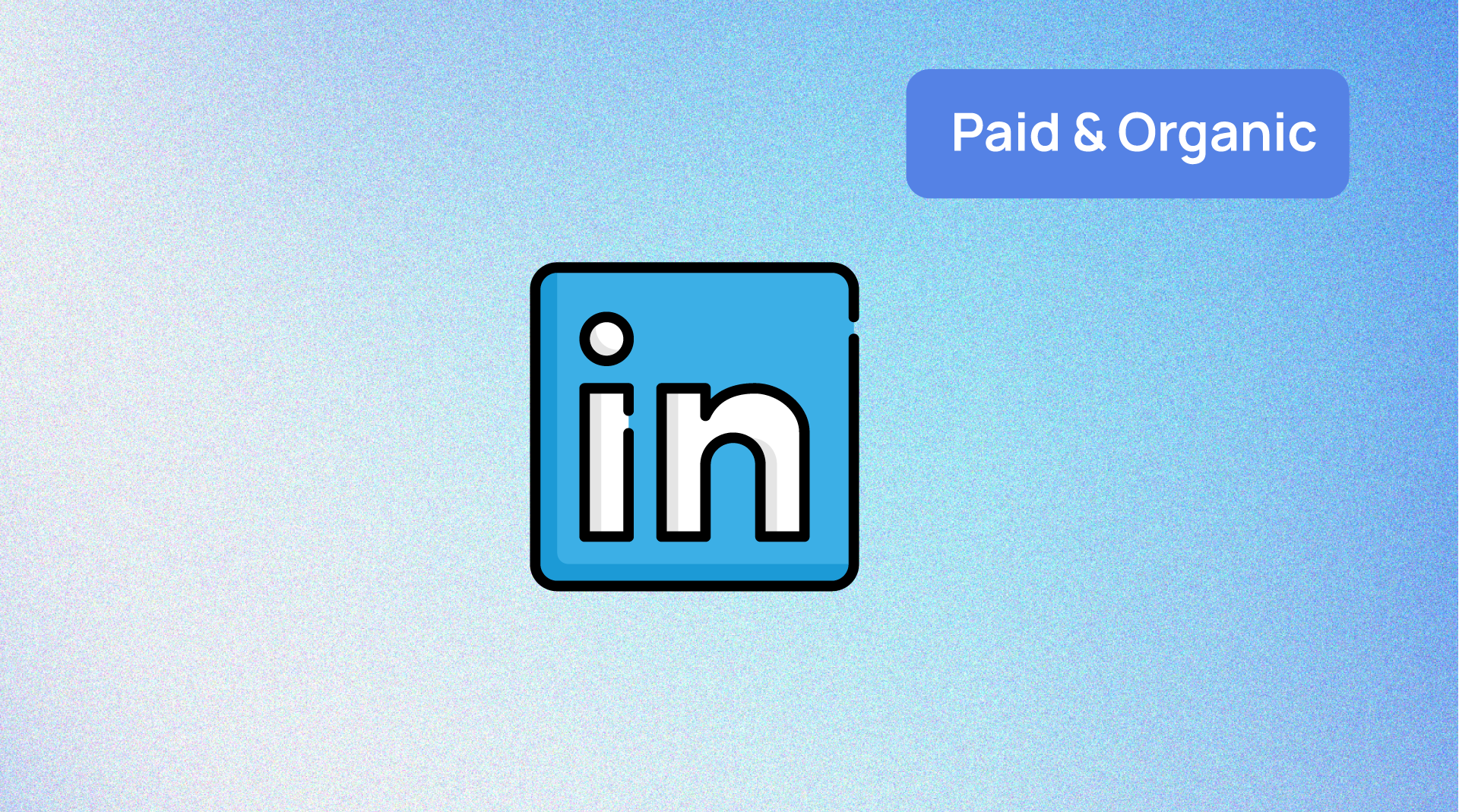 LinkedIn is emerging as more than just a professional networking platform. It has evolved into a hub of conversation, innovation, and even brand engagement. While LinkedIn might be synonymous with B2B marketing for many, B2C brands are also finding their footing on this platform. In this blog post, we'll explore how B2C brands can leverage LinkedIn to their advantage, backed by real-world brand examples.
Jump to the examples:
Is LinkedIn Good for B2C Marketing?
LinkedIn might not immediately spring to mind when considering B2C marketing due to its social networking and professional nature. However, it's crucial to recognize that LinkedIn users are not just professionals – they are also consumers. With the increasing blending of personal and professional lives, LinkedIn users are not only using it to enhance their careers. Now, they also utilize it to interact with brands and stay updated on industry trends.
LinkedIn's unique user base and interaction dynamics make it a treasure trove for specific B2C brands to drive engagement. Let's dive into who can benefit most from LinkedIn's landscape.
☑️ What do people expect from brands on LinkedIn?
Recent studies have highlighted that 82% of shoppers seek alignment between their values and those of consumer brands they buy from. They are inclined to boycott brands whose values clash with their own. A significant 75% of shoppers reported severing ties with a brand due to conflicting values.
Given these trends, LinkedIn emerges as an invaluable tool for B2C brands. They can use this platform to establish their brand identity, express their values, and forge genuine connections with consumers.
🎯 Who are LinkedIn users?
If your target audience frequents LinkedIn, this platform can indeed be a valuable addition to your marketing strategy. Statistics from Statista reveal that 60% of LinkedIn users fall within the 25 - 34 age range. The 18 to 24 group stands at 21.7 percent. So, if your B2C brand caters to a more mature and career-oriented crowd, LinkedIn is your sweet spot.
🛍️ How are LinkedIn users' buying behaviors?
LinkedIn users show a knack for high-consideration purchases. The "Meet the Member Research Study" revealed LinkedIn users are more inclined to buy products needing careful thought. They've bought more high-consideration goods compared to other social platforms.
B2C Brands that Can Especially Thrive on LinkedIn
📚 Educational Institutions and Programs
Institutions offering adult education, skill development, and professional training can effectively target LinkedIn's audience seeking self-improvement and career advancement.
🌟 Luxury and High-End Brands
Companies specializing in luxury products, upscale experiences, and high-consideration purchases can align with LinkedIn's demographics of higher income and wealth. Brands offering products that require thorough research and consideration before purchase can thrive on LinkedIn. This platform provides an environment where users are open to engaging with informative content and discussions about complex purchasing decisions.
🚗 Automotive Brands
Much like luxury brands, automotive brands thrive on high-consideration purchases. LinkedIn is two times more effective at driving brand awareness for automotive brands than linear TV, display, and other major social platforms.
🏘️ Real Estate and Property Investment
Brands dealing in real estate, property management, and investment opportunities can leverage the platform's engaged and discerning audience.
🤝 Professional Services
Businesses offering legal, consulting, career coaching, and other professional services can benefit from LinkedIn's reputation as a networking and professional growth hub.
🧘 Health and Wellness
These brands can benefit from the fact that LinkedIn's audience is interested in holistic well-being, self-improvement, and personal growth.
B2C & LinkedIn: How Your Brand's Internal Dynamics Influence Consumer Preferences
In the quest for trust and loyalty, presenting the human side of your brand is pivotal. Contemporary consumers rally behind brands that exude transparency, authenticity, and relatability. This is where your B2C company culture and internal dynamics shine.
By showing how products are crafted and how operations are managed, you invite consumers to connect with the people propelling the brand forward. This personal touch can significantly alter consumer perceptions, ultimately influencing their purchasing choices.
🍃 Organic: 5 Marketing Ideas for B2C Brands (with Examples)
Let's dive further into LinkedIn B2C Marketing examples.
1 - Share Your Brand Story and Identity
Unveiling your brand's values, highlighting the causes you champion, and showcasing your involvement in social issues can deeply resonate with your audience.
2 - Share Altruistic Efforts with Charities
B2C brands that show their philanthropic side can strike a chord with consumers. Sharing how you're giving back to society can enhance your brand's image.
3 - Share Behind-the-Scenes Content
Peel back the curtain and reveal how your products and services come to life. By offering a glimpse into your team's daily operations, you can make your brand more relatable.
4 - Build Employee Advocacy
Introduce your employees to your audience. Sharing their stories, roles, and contributions not only humanizes your brand but also creates a sense of familiarity.
5 - Share New Releases, Campaigns, and Collections
Don't shy away from promoting your products or services with moderation. For example, for DTC brands, LinkedIn can still be a good driver of purchase intention.
📣 Paid Ads: 5 LinkedIn Ad Ideas for B2C Brands (with Examples)
Check these LinkedIn Ads for B2C Brands
1. B2C LinkedIn Ad Product Ads: Selling Products
LinkedIn's extensive targeting capabilities make it an excellent platform for promoting products to a specific audience. Unlike other platforms, LinkedIn's professional user base allows brands to tailor their messages to reach professionals with diverse interests and purchasing power.
This precise targeting is particularly advantageous for high-consideration products, where LinkedIn's quality audience can yield exceptional results. This platform offers unparalleled targeting precision, enabling luxury brands to reach consumers with high purchase power, for example, C-level professionals in large companies and other segments.
LinkedIn product ads examples
2. Aspiration LinkedIn B2C Ads: Inspire Consumers to Follow Their Dreams
LinkedIn research suggests that inspiring aspiration within consumers resonates deeply on the platform. Brands can tap into LinkedIn's receptive audience to inspire personal growth or align with causes that matter to them. Crafting ads that embody aspiration can create emotional connections and engage viewers at a meaningful level.
LinkedIn ads examples
3. Innovation LinkedIn B2C Ads: Showcase Forward-Thinking Initiatives
LinkedIn users are drawn to innovation. LinkedIn research suggests that showcasing forward-thinking products or services can capture user attention effectively. B2C brands can leverage this to highlight their innovative endeavors and foster connections with users who value novel approaches.
LinkedIn B2C advertising examples
3. Loyalty LinkedIn B2C Ads: Cultivate Trust and Engagement
Trust is pivotal in B2C advertising, and LinkedIn's audience tends to trust branded content. LinkedIn research highlights the effectiveness of ads that demonstrate brand loyalty and customer satisfaction.
4. Social Issues LinkedIn B2C Ads: Sharing Your Brand's Values
LinkedIn research indicates that aligning with social issues and causes can resonate strongly with the audience. Brands that share their values on LinkedIn connect with users who appreciate brands with a sense of purpose. This approach fosters a deeper emotional connection and engagement.
LinkedIn is no longer just a platform for professional networking. It's also a place where B2C brands can build meaningful connections and showcase their brand identity.