Holidays
4th of July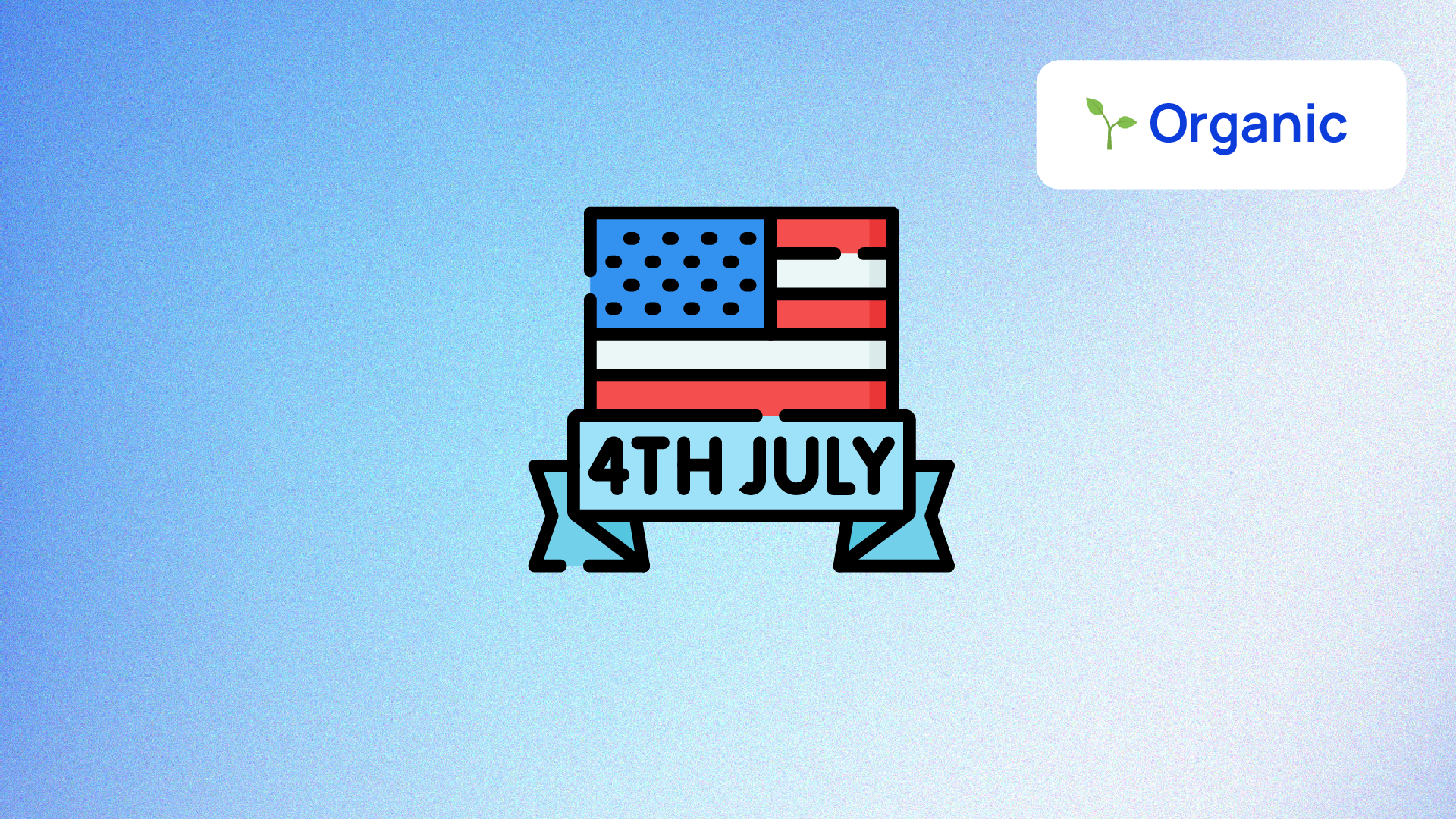 As Independence Day approaches, businesses have a great opportunity to connect with their audience and ignite the spirit of patriotism through captivating 4th of July social media posts.
With social media channels like Facebook, Instagram LinkedIn, Twitter, and more at their fingertips, brands can leverage these platforms to showcase their products or services in a vibrant tapestry of red, white, and blue.
4th of July Social media posts for businesses: 20 real examples
1. Showcase your products in red, white, and blue
Create visually appealing posts featuring your products or services adorned in patriotic colors. Highlight how they can enhance customers' 4th of July celebrations.
This approach allows your brand to seamlessly integrate the 4th of July theme into your social media presence. You can showcase your products adorned with American flags, incorporate patriotic-themed packaging or create visually appealing flat lays with red, white, and blue props.
2. Talk about freedom
4th of July is a celebration of freedom, making it an opportunity for brands to discuss the values they stand for. Share meaningful and inspiring messages about freedom, independence, and the American spirit.
You can create compelling content that emphasizes the freedom of choice or the liberation your product brings. This approach lets you build a stronger relationship with your audience by tapping into the emotions patriots feel during the holiday. The holiday is significant and the feelings it stirs are powerful.
3. Show how your product can be part of the 4th of July celebrations
Demonstrate to your audience how your product can enhance their 4th of July festivities. Showcase your product being used in a 4th of July setting, such as a backyard barbecue or a picnic in the park.
Highlight the features and benefits of your product that make it a great addition to any celebration. This could be a patriotic-themed clothing item, a grilling accessory, or a refreshing beverage.
4. Run a 4th of July sale
Take advantage of the 4th of July holiday by offering exclusive discounts or promotions on your products. Create a sense of urgency by emphasizing limited-time offers or limited stock availability. Use captivating visuals and patriotic imagery to create attention-grabbing social media posts that encourage your audience to make a purchase. Consider offering special bundles specifically tailored for the holiday, allowing customers to get all they need for their celebrations at a discounted price.
5. Share tips for celebrating the 4th of July
Position your brand as a helpful resource by sharing practical tips and suggestions for making the most of the 4th of July festivities. Provide guidance on hosting a successful backyard barbecue, creating festive decorations, or even safety tips when dealing with fireworks.
This approach allows you to engage with your audience beyond just promoting your products, establishing your brand as an authority, and fostering a sense of trust.
6. Share sparks & fireworks
Captivate your audience by sharing captivating visuals of fireworks displays or sparklers. Use high-quality images or videos to create an immersive experience that captures the excitement and joy of the 4th of July. Consider partnering with photographers or influencers who specialize in capturing fireworks to create stunning content that will resonate with your audience.
7. Share a funny meme
Inject humor into your 4th of July social media strategy by sharing funny memes or jokes related to the holiday. Find or create content that combines popular memes with patriotic elements to create shareable and relatable posts. Humor can help your brand stand out in a crowded social media landscape and create a positive association with your brand. Ensure that the humor is in good taste and aligns with your brand values to avoid any potential backlash.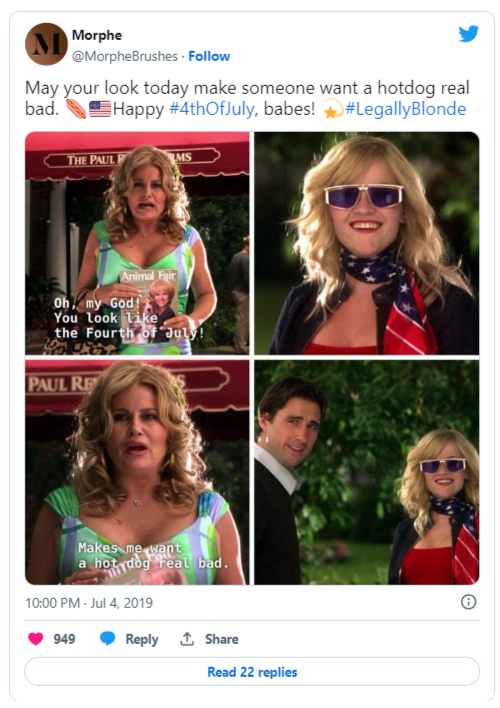 8. Share a 4th of July recipe
Tap into the culinary aspect of the holiday by sharing a delicious and patriotic recipe. Provide your audience with inspiration for their 4th of July menu.
Consider adding a red, white, and blue dessert, a refreshing summer cocktail, or a classic BBQ recipe with a 4th of July twist.
Include step-by-step instructions, mouthwatering visuals, and even highlight how your brand's products can be incorporated into the recipe.
9. Share a photo with the American flag
Demonstrate your brand's patriotism by sharing a powerful and visually striking photo featuring the American flag.
This type of post evokes a strong sense of national pride and connection. It could be a well-composed image of the flag fluttering in the wind. It could also be a creative image of your products alongside the flag. Or, it could even be a user-generated photo of your brand at a 4th of July event.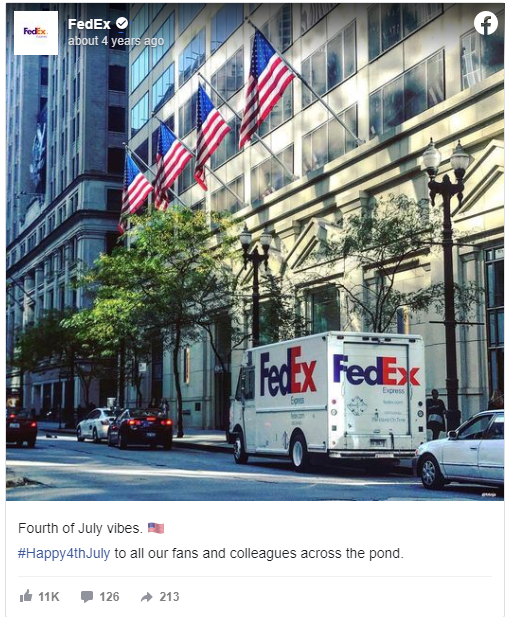 10. Share your 4th of July limited-edition products
Create anticipation and exclusivity by introducing special limited-edition products specifically designed for the 4th of July. Tease your audience with sneak peeks and behind-the-scenes content leading up to the release. Highlight the unique features or patriotic motifs of these limited-edition items to generate excitement and a sense of urgency.
Finally, don't forget to wish your audience a happy 4th of July. Remember that this holiday is a time for joy, unity, and gratitude.
Free 2023 Social Media Calendar