Industry
Real Estate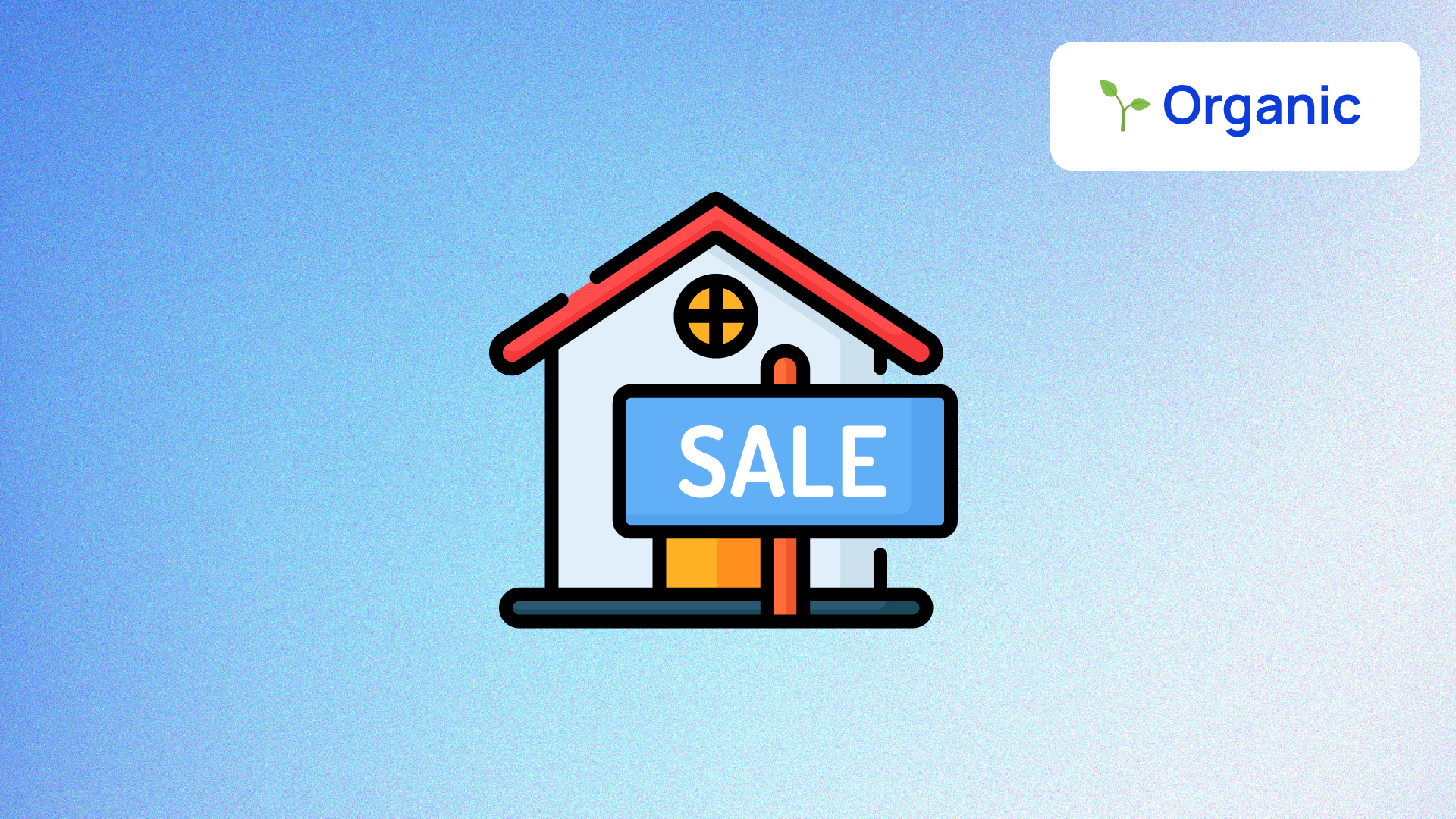 Social media is an essential tool for any real estate professional looking to generate leads and grow their business. Real estate agents can utilize social media platforms to connect with potential clients, showcase their properties, and establish themselves as experts.
96% of homebuyers use online tools to search for homes (Source: NAR)
This statistic shows that social media is the perfect place to showcase your properties and reach potential clients. With millions of users active on platforms like Facebook, Instagram, and LinkedIn, there is no better place to grow your business.
Real Estate Social Media Marketing
Social media is a key tool for real estate agents to reach potential clients, build their brands, and grow their businesses. To make the most of your social media accounts, it's important to have a well-thought-out strategy in place.
It's important to understand the main types of content: attraction, authority, affinity, and action.
🧲 Attraction:

Attraction content is designed to capture the attention of your target audience and draw them in. This can include visually stunning images of properties, attention-grabbing headlines, or engaging videos that showcase your expertise.
🏆 Authority: Authority content is designed to position you as an expert in your field. This can include market updates, insights into the real estate market, or informative blog posts that provide value to your audience.
🧑🏾‍🤝‍🧑🏻 Affinity: Affinity content is designed to build a connection with your audience and foster trust. This can include behind-the-scenes glimpses into your day-to-day work, testimonials, or personal stories.

✅ Action:

Action content is designed to drive your audience to take a specific action, such as filling out a lead form. This can include calls-to-action in your social media posts to schedule a showing
To create a well-rounded social media strategy, it's important to incorporate all four types of content into your content calendar.
26 Ideas for Real Estate Posts
🧲 Attraction ideas
1. Share new listings
Sharing new listings is a crucial component of any real estate social media strategy. While it may seem like an obvious idea, it is key to attracting the attention of potential buyers. Consistently sharing new listings on social media helps establish you as a reliable source of real estate information.

2. Create a video tour
73% of homeowners prefer to work with agents who use video to market their properties (NAR)
Video tours allow potential buyers to get a more comprehensive understanding of the layout, features, and overall vibe of the property. Aim for a video that accurately represents the property and its features in a natural and authentic way. By creating engaging video tours, you can set yourself apart and increase the chances of attracting potential buyers.
3. Highlight a feature of a property
Use a stunning image to showcase a unique feature of the property, such as a fireplace, pool, or scenic view. Make sure to mention how the feature enhances the overall value of the property.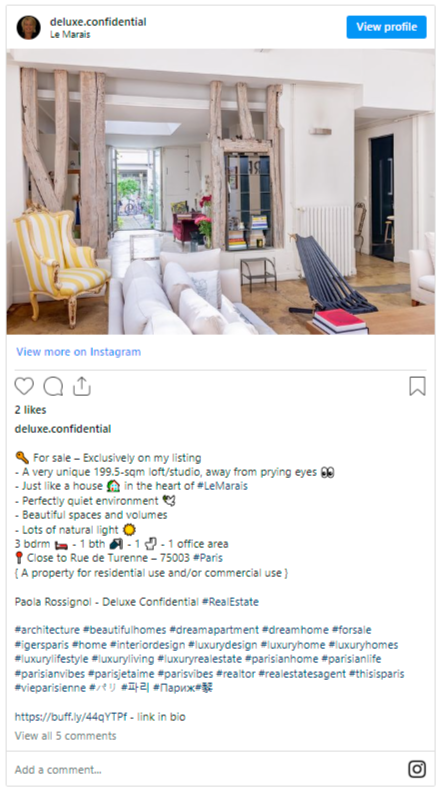 4. Share an interesting fact about a property
Share an interesting or unique fact about a property to grab viewers' attention and make the property more memorable. Make sure the fact is relevant and adds value to the post.

5. Share properties coming soon
Sharing your coming soon properties is an effective attraction tactic in real estate social media marketing. This strategy can generate anticipation and attracts interest in the property and generate leads from potential buyers.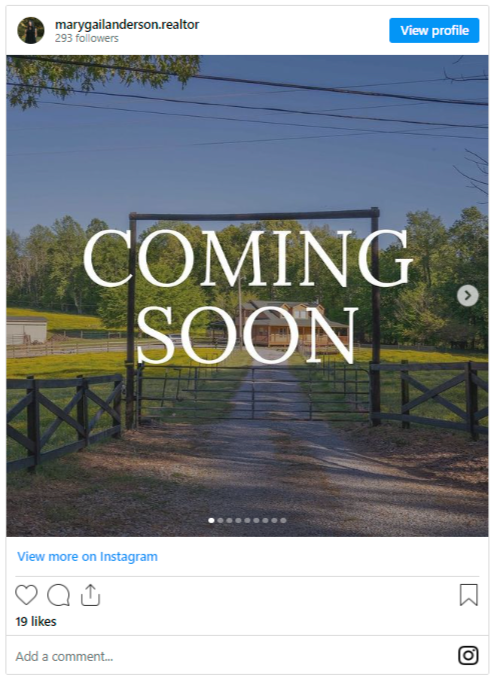 🏆 Authority Ideas
6. Share industry news
Share the latest real estate trends, news, or statistics to establish yourself as a knowledgeable expert in the industry. Make sure to provide context and analysis to help your followers understand the implications of the news.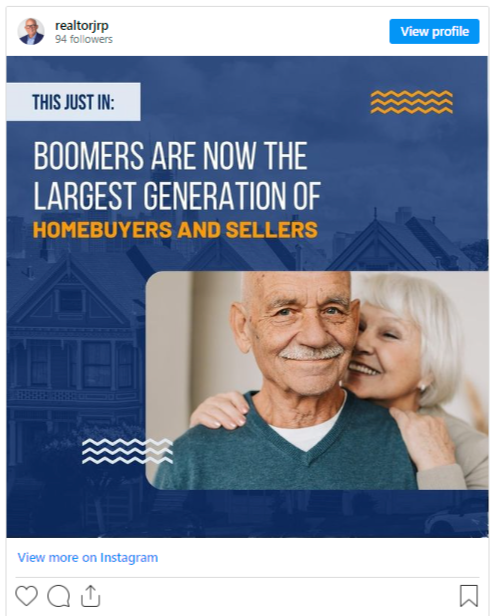 7. Share a local market update
Share the latest market trends in your area to help potential buyers make informed decisions. Use graphs or charts to make the information easy to understand.

8. Share an industry statistic
Share statistics that show the benefits of owning a home, such as appreciation rates or tax advantages. Use high-quality graphics to make the statistics visually appealing.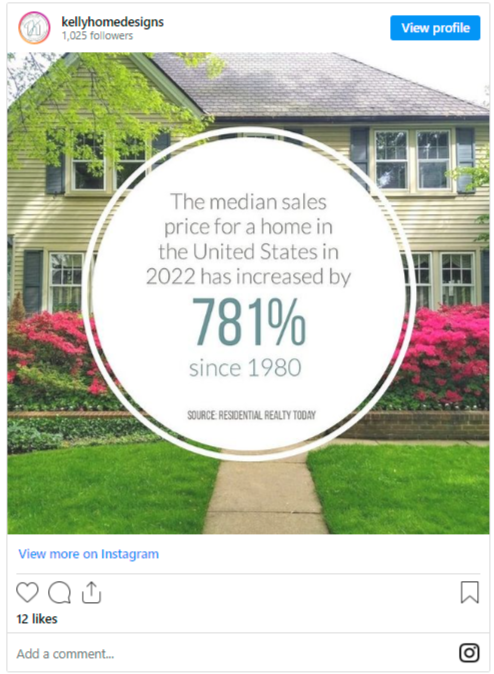 9. Share tips for first-time homeowners
First-time homebuyers often have many questions and concerns. By providing them with useful tips can help, them feel more confident and informed.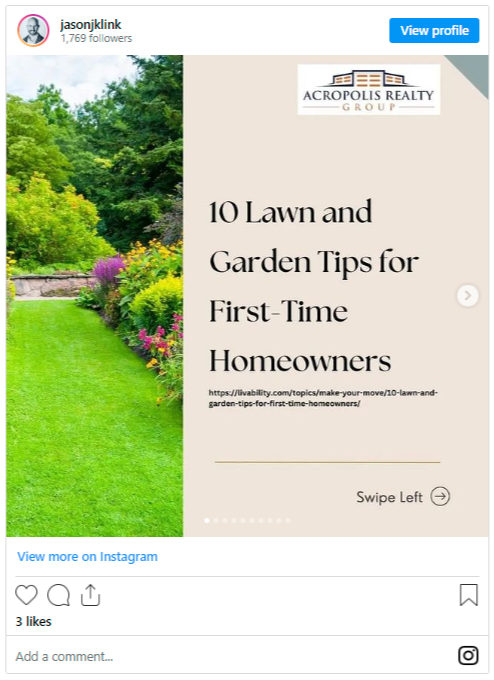 10. Share tips for house maintenance
Sharing tips for house maintenance helps to build a loyal following by providing valuable and practical information to your audience. Providing homeowners with useful guidance can help them feel more confident and informed in maintaining their homes.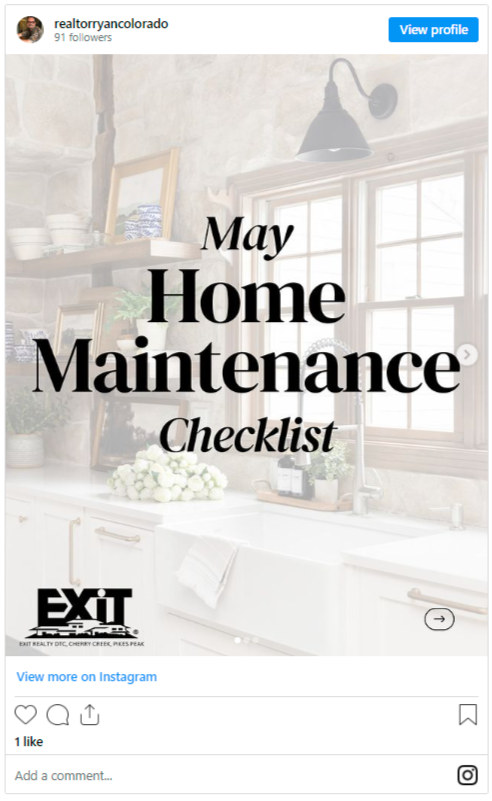 11. Share home equity tips and data
By providing valuable and insightful information about home equity, agents can demonstrate their expertise and establish trust with potential clients. Homeowners are often curious about their home's value and how to increase it, making this type of content highly relevant.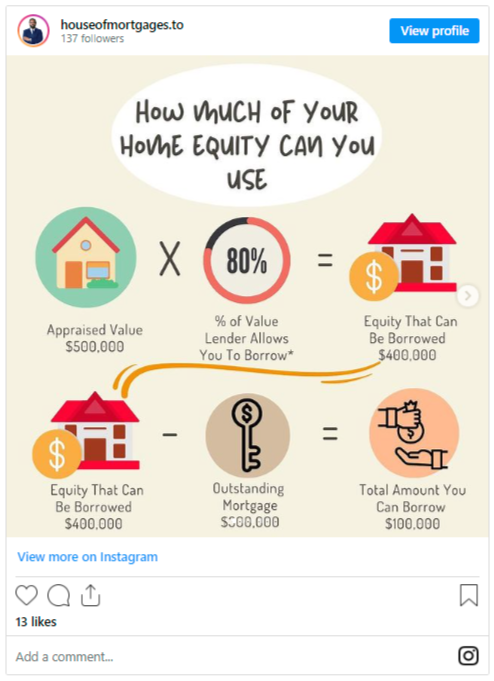 12. Share tips about buying or selling
This type of content can cover a wide range of topics, from mortgage rates to closing costs to home inspections. By offering useful and actionable advice, realtors can demonstrate their knowledge, positioning themselves as reliable sources of information for home buyers.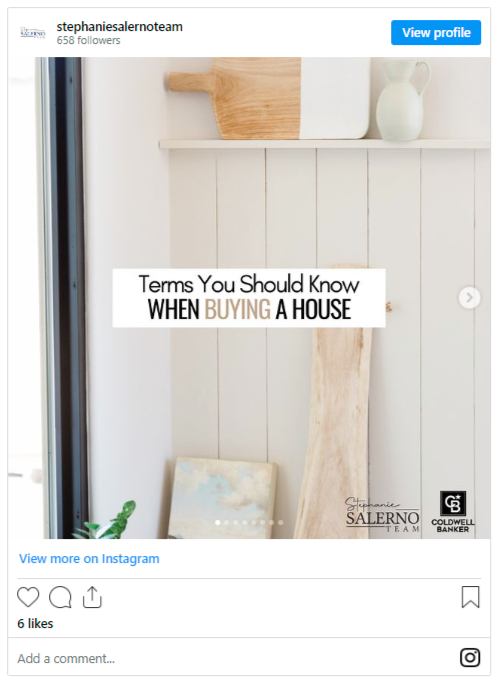 13. Share DIY tips
This type of content can include tips on painting, landscaping, or even small renovations that can add value to a home. This can help build a loyal following from homeowners who appreciate the agent's practical advice and expertise.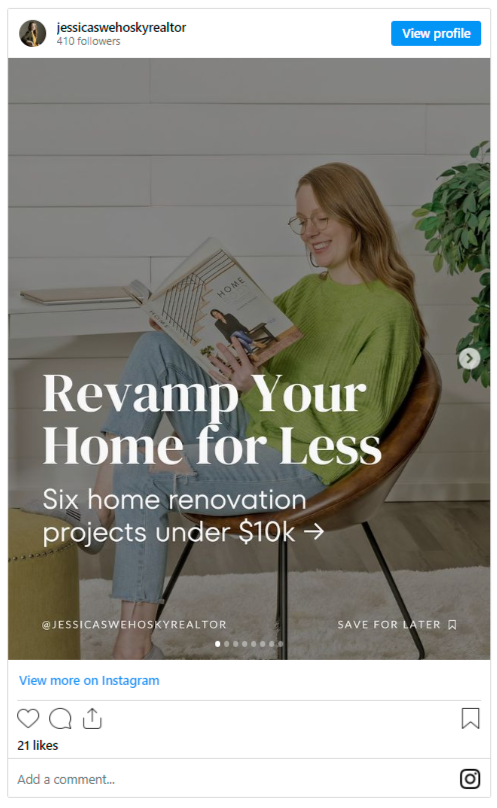 14. Share home staging tips
Mentions tips such as decluttering, rearranging furniture, or home decor ideas to make the home more appealing to potential buyers. By offering useful and relevant information, realtors can establish themselves as experts in the field and build trust with potential clients.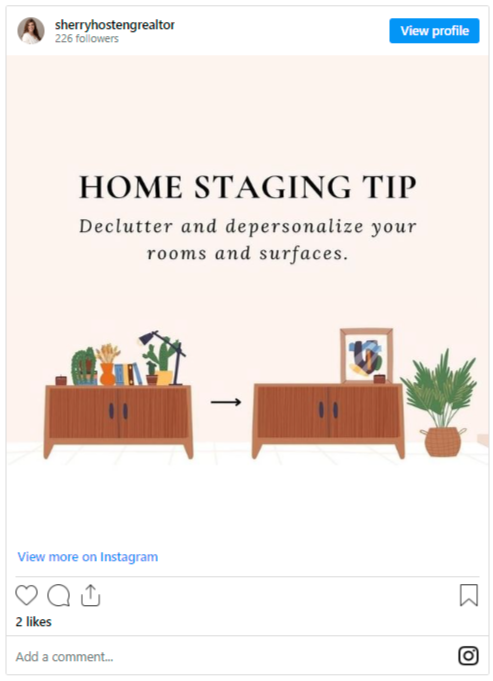 15. Share house-hunting tips
By providing useful information on how to navigate the house-hunting process, agents can establish themselves as knowledgeable sources of information. Potential buyers are often seeking guidance on how to find their dream home, making this type of content highly valuable.

16. Share information about fixer-uppers
Give advice on how to assess and renovate older homes, so you can position yourself as an expert in the home renovation field. This can help you attract potential clients who are interested in these types of properties.
🧑🏾‍🤝‍🧑🏻 Affinity Ideas
17. Share an inspirational quote
Use motivational quotes in your posts on Instagram to inspire your followers and help them stay positive. A well-chosen quote can inspire and uplift, while also associating the realtor's brand with positive feelings and values.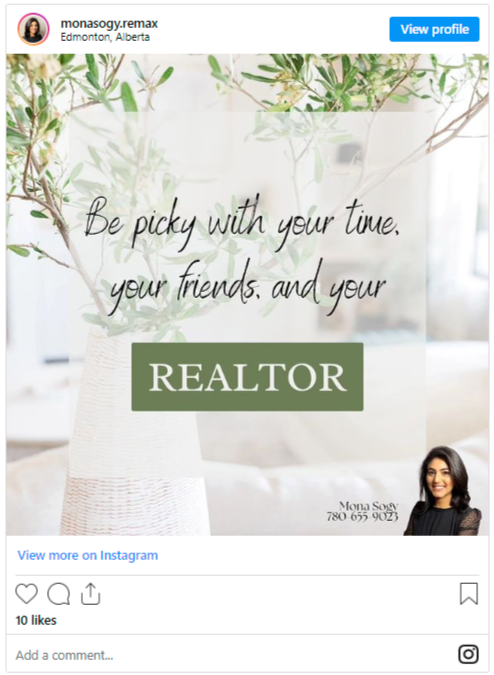 18. Share the properties you just sold
Sharing the properties you just sold is a great way to build affinity with your followers as it showcases your success. It can also encourage potential sellers to work with you in the future.

19. Share pending properties
Sharing pending properties on social media is a great way for realtors to keep their audience engaged. It creates a sense of anticipation and excitement, especially for potential buyers who may have missed out on previous listings. By sharing pending properties, realtors can also showcase their expertise and highlight their successful track record in selling homes.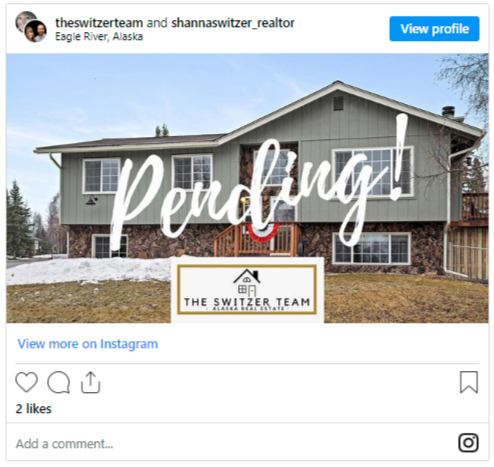 20. Share photos of the realtors
Sharing photos of the realtors themselves is an effective way to build affinity with potential clients. People like doing business with people they trust, so showing the faces behind the business helps to humanize the brand. It can also help to make the team members more relatable to their followers.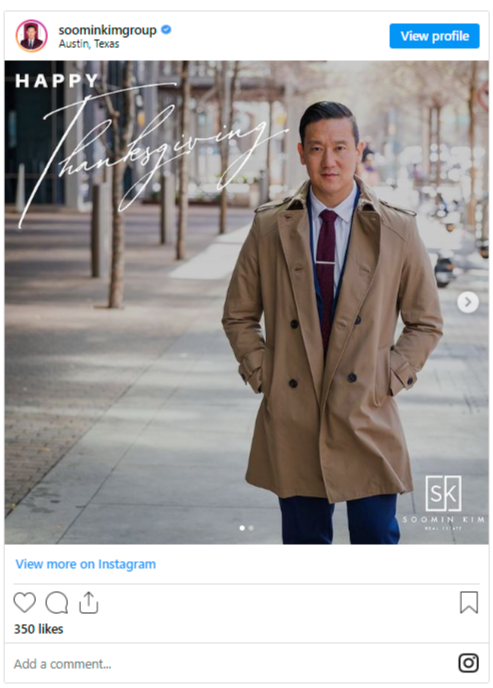 21. This or That and Polls
Sharing "This or That" and Polls is a great way to start a conversation and learn more about your followers. Plus, it allows you to gather valuable insights that can help you better cater to your clients' needs.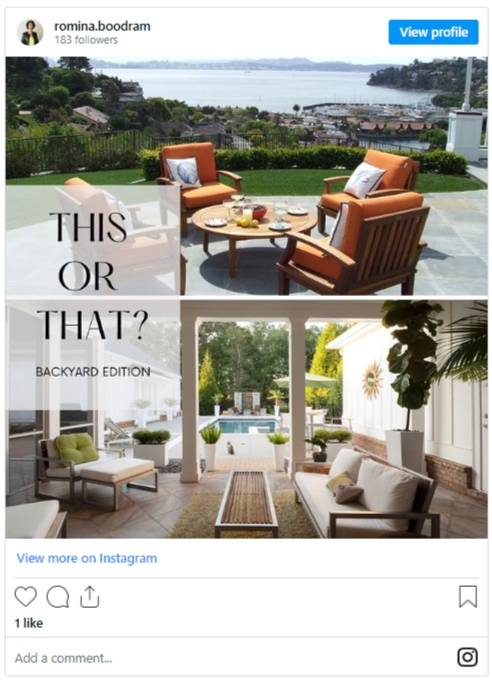 22. Share client testimonials
By showcasing positive experiences from past clients, potential customers are more likely to trust and feel connected to the realtor. It also provides social proof, which can help attract new clients and increase business.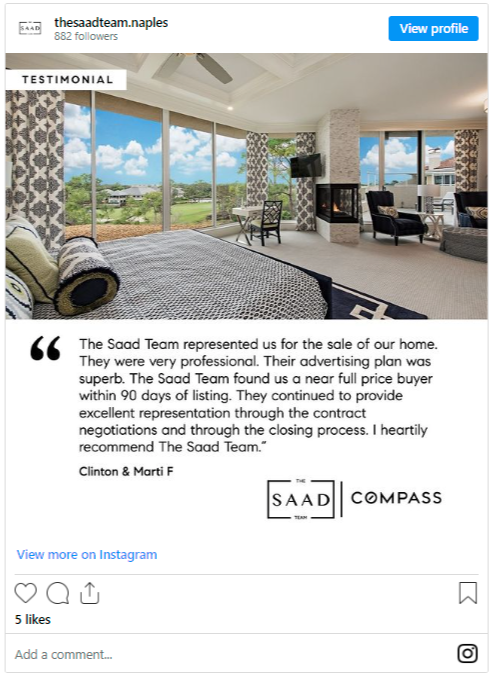 23. Share a client success story
Share a success story about a client you helped find their dream home to inspire potential clients and build trust. Use a photo or video of the client and highlight how you helped them overcome challenges in the process.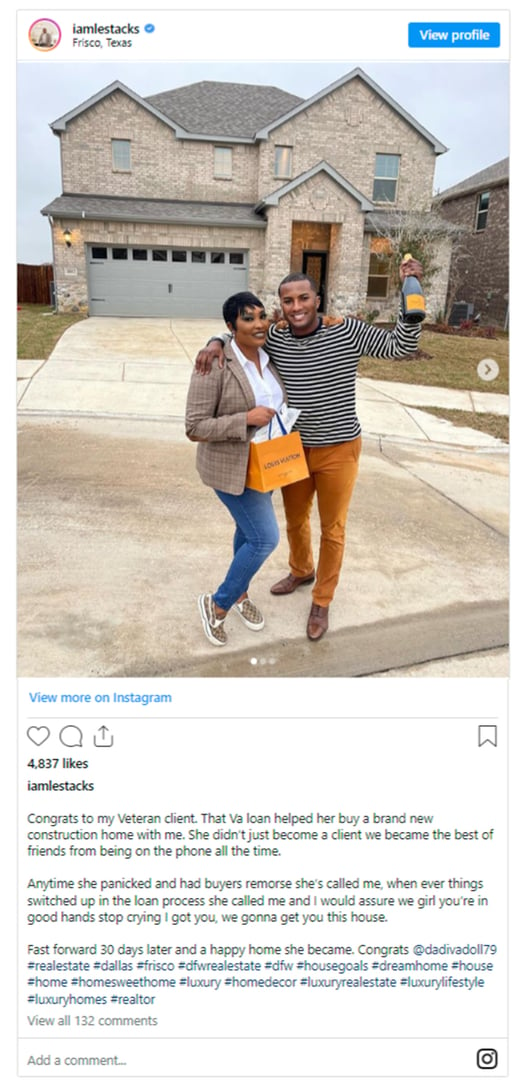 24. Share tips about moving
Moving can be a stressful and overwhelming process. By providing helpful tips, realtors show that they understand the challenges their clients face.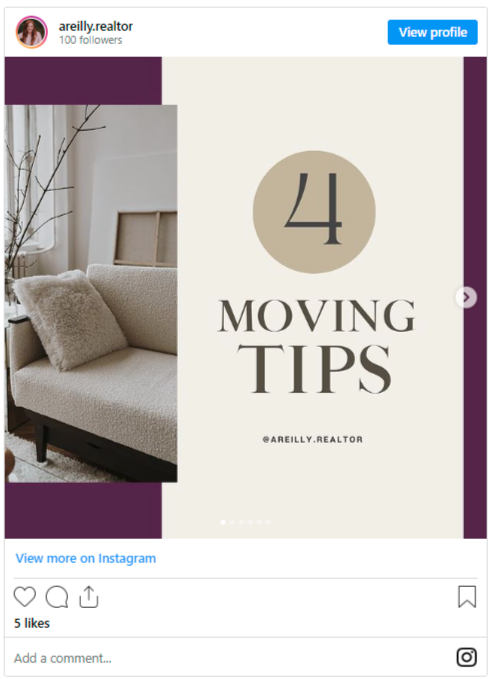 ✅ Action ideas
25. Share new listings with CTAs
By including a strong call-to-action in listing posts, such as "Schedule a showing today" or "Don't miss out on this opportunity," realtors can encourage interested buyers to take action. This type of action-oriented content is essential for realtors who want to drive conversions and close more deals.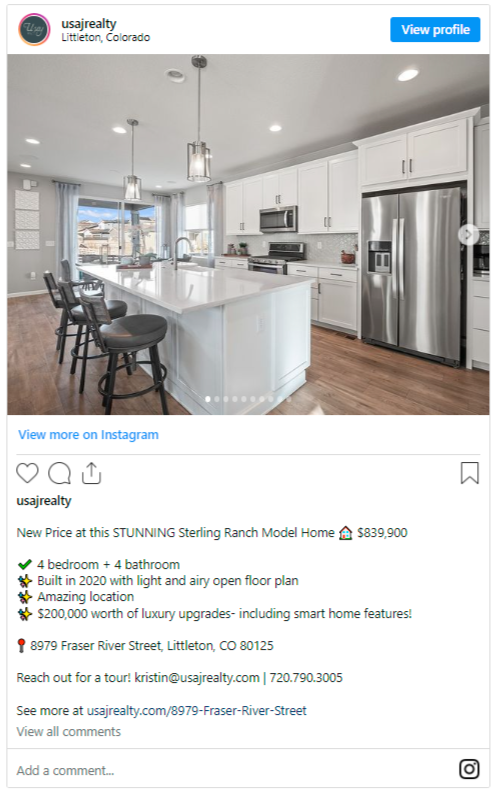 26. Invite followers to open houses
Inviting followers to open houses is a great way for realtors to take action and increase engagement. By creating a sense of exclusivity, followers will be more likely to attend the open house.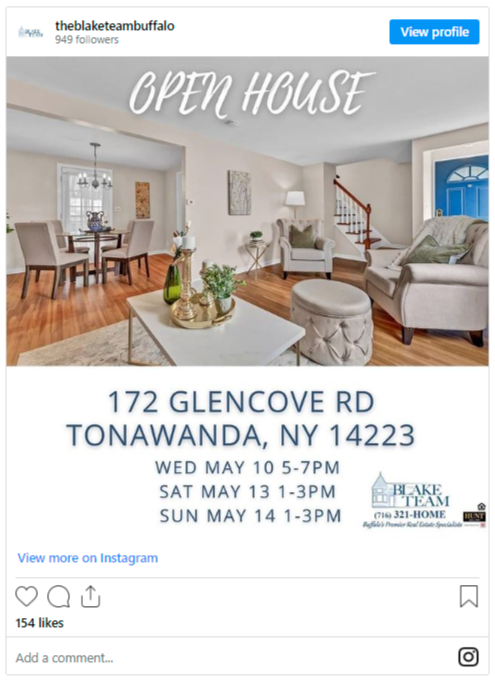 Summary: Dos and Don'ts of Real Estate Social Media Content
DOs

DON'Ts:

✔️ Do showcase your listings: Social media is a great place to showcase your listings and attract potential buyers.
✔️Do provide valuable information: Offer tips and insights about the real estate business to build trust.
✔️Do engage with your audience: Respond to comments, messages, and feedback to build relationships and show that you value their input.
✔️Do be authentic: Share behind-the-scenes photos, personal stories, and experiences to humanize your brand.
❌ Don't spam your followers: Avoid posting too frequently or posting irrelevant content that may annoy your followers.
❌Don't post overly promotional content: Avoid posting overly promotional content that comes across as spammy. Instead, focus on building trust with your audience.
❌Don't neglect to share valuable insights: While showcasing your listings is important, sharing valuable insights is also key.
❌Don't ignore analytics: Use social media analytics to track the performance of your content and adjust your strategy accordingly.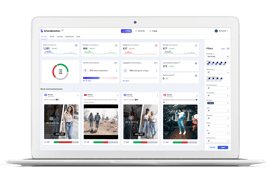 Looking to find leads and potential buyers on social media?
Consider using AI to analyze and identify conversations where your services may be a good fit. Start today and see how you can grow your real estate business.
START FREE TRIAL