As Facebook proceeds to drive organic reach into oblivion, advertisers continue to invest more into paid engagement. Ad spending on Facebook has been increasing by 74% (!) year over year. eMarketer forecasts that US advertisers will spend nearly $48 billion on display ads in 2018, with almost a half of this ($21.57 billion) going to Facebook alone!
Despite this massive growth, it seems brands are struggling to keep up with managing their social media properties. In-house customer service teams often mainly focus their efforts on organic post comments, while paid posts on Facebook and Instagram ads are often left unattended.
Why DO you need to check the comments on Facebook ads?
A "set it and forget it" mentality is a norm for paid posts as many marketing managers may be unaware of the comments that their Facebook ads are receiving.
The reality is organic reach for a Facebook post is only 2% and declining. Take that number and multiply it by the amount of ad dollars being put behind a specific post. You'll find your paid posts are most likely receiving a much larger volume of comments than your organic posts.
When you're advertising on any platform, you're looking for the greatest ROI. Most companies concentrate only on the ad's creative and retargeting. While these are definitely some of the most important matters that will attribute to the ad's success, the situation can change significantly, if you don't pay attention to the comments on the ad.
So what do these comments actually say? And how do they affect your brand's image? Here are a few examples of sponsored posts I've found in both my Facebook and Instagram feeds.
In this Facebook sponsored post Hotjar, a great website analytics tool, is receiving tons of comments containing links to competitor sites. These comments are directly driving potential users away from Hotjar. They're also receiving comments regarding the link in their ad not working. As most ads aren't regularly monitored, these comments likely remain unseen with their ad dollars are being wasted on clicks and impressions that bring nothing.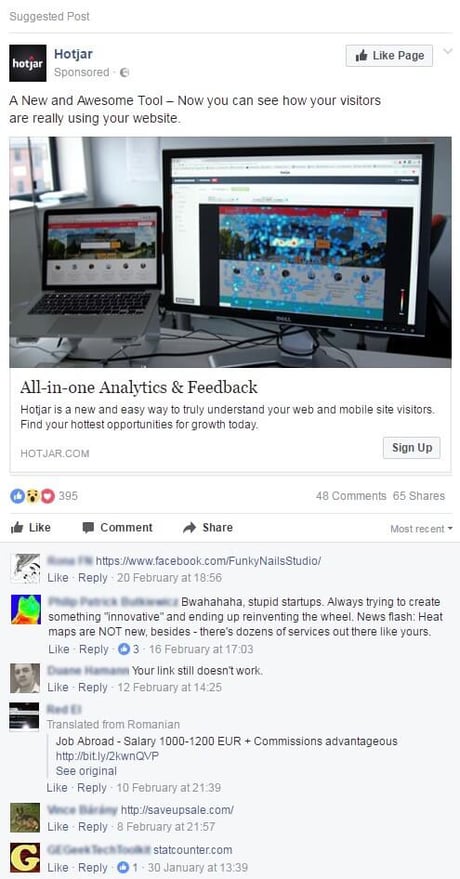 This Instagram sponsored post from Car Insurance Deals for example received comments containing customer complaints, these comments litering this post will decrease the probability of people clicking "Learn More."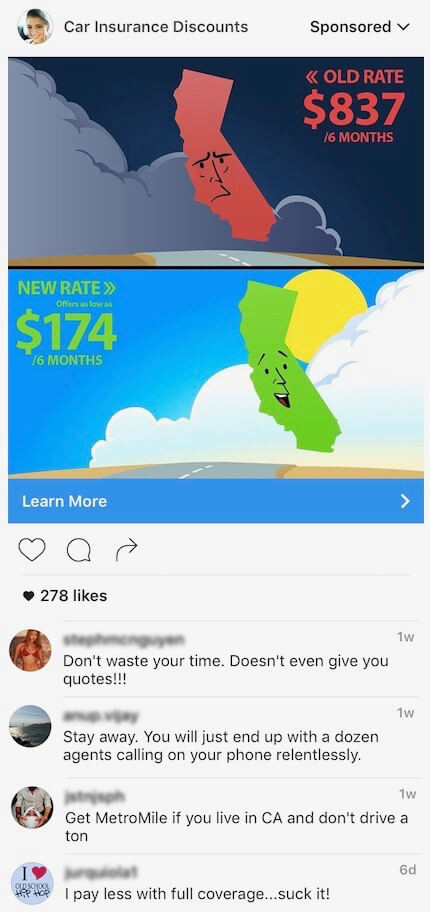 This StubHub Instagram sponsored post contains comments from upset customers that encourage others not to use the site.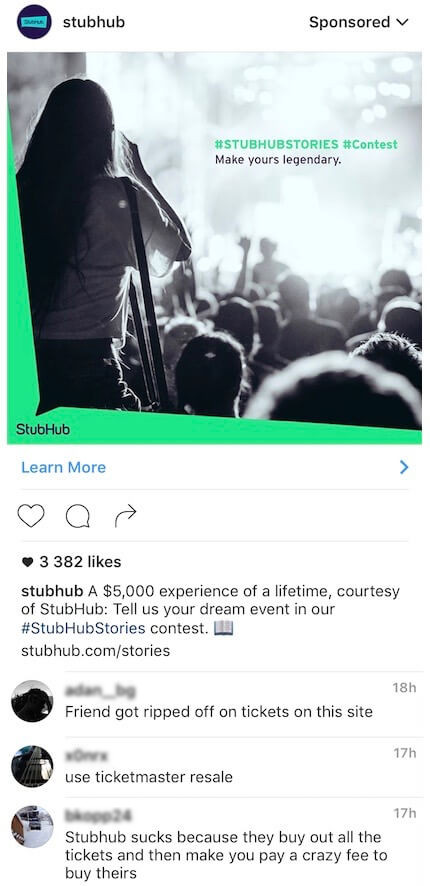 It's a harrowing concept to consider, but if you're not responding to and moderating the comments you're receiving on paid posts, they can actually cause a lot of harm to your brand.
How can you solve this?
Social media is changing the entire business of customer service, posing both great challenges and new opportunities for brands. But it doesn't need to be such a scary thing! Complementing in-house teams with technology is a great way to lessen the load without drastically increasing spend.
BrandBastion's automated global real-time solution offers:
comment moderation (spam and scam removal),

alerts in case of potential situations requiring immediate attention from the brand in order to avoid a social media crisis,

response to customer inquiries on social media within 8 minutes 24/7.
We work with many of Facebook's largest ad spenders to protect and support their properties (both paid and organic) round the clock.
To get a FREE engagement analysis of your social media properties, click the button below.