Every year there are more and more marketing conferences popping up everywhere: some of them are huge events with massive production. Others concentrate on specific marketing niches or locations.
A simple Google search of marketing conferences to attend in 2018 will bring you to exhaustive lists with hundreds of events that you can keep on scrolling until tomorrow, still not knowing if any of them are worth the time and money.
At BrandBastion we decided to take a different approach (as with everything we do), and put together a hand-picked list of the best marketing conferences out there, that we have either attended personally or heard great feedback from the others. These will surpass your expectations in terms of benefits you can get out of them.
"We're bringing to stage the experts leading growth at companies like Spotify and ClassPass, as well as other thought leaders in growth hacking, artificial intelligence and customer personalization. And we're just getting started."
Exactly as their description states, this conference is a gathering of the top minds in marketing and growth hacking from the leading companies, including Slack, Microsoft, Skyscanner, Evernote and so on. If growth marketing is one of your top priorities for 2018, you should really consider attending this event.
"Every year, thousands of the world's smartest marketers descend on San Diego, California to learn what's new, what's hot, and what's actually working RIGHT NOW in digital marketing."
Their speaker roster for 2018 includes some of the brightest minds in marketing today. Just by being in the same room with people like Joel Comm or Robert Cialdini, you will be a part of marketing greatness. (By the way, if you haven't read "Influence" yet, do yourself a favor. It will expand your marketing mind in ways you couldn't even imagine.) At T&C Summit, you will get plenty of new ideas and information on anything, starting from amplifying your content marketing to tying your community management with your business goals and so much more.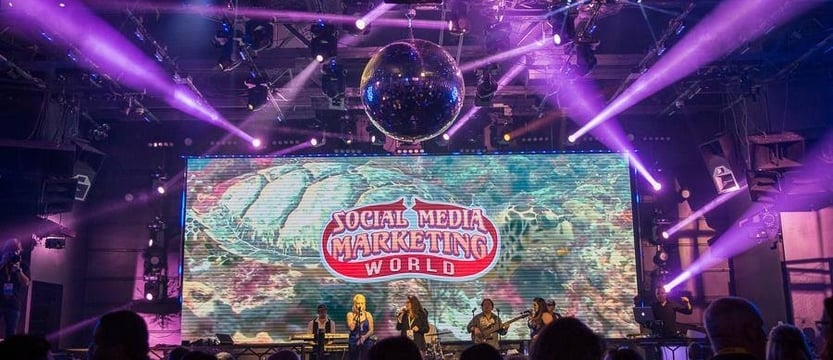 Image courtesy of Social Media Examiner.
"You'll discover ideas that'll transform your marketing, your content, and your business."
This conference is the best place to be for anyone working with content and community building. Organized annually by Social Media Examiner, this event is like a marketing camp with friends that you never want to leave (and San Diego's extremely pleasant weather plays only a small part in this). It's a who's who of today's top marketing visionaries. They will expand your professional horizon, and not only teach you plenty of new techniques, but also provide you with practical tips rather than just theoretical knowledge. There is something for everyone at SMMW, whether you run a small business or come from a big corporation. Their categorized tracks let you pick and choose presentations relevant specifically to your marketing challenges. Hint: you will also get to meet BrandBastion there.
"CMO Digital Insight Summit will bring together senior decision-makers and business leaders from across the digital spectrum to discuss current industry challenges and opportunities, how to get the most out of them – and where the solutions lie for today's digital marketers."
Key themes under discussion include: moving to next-level storytelling with content creation, distribution and management; personalisation, audience targeting and the omni experience; and making sense of marketing data in the age of analytics. This is one of those niche events specifically for people in senior marketing positions. If you wish to get together with the industry peers, discuss your common problems and learn from them, CMO Digital Summit creates the best atmosphere for this without any irrelevant noise to distract you.

Image courtesy of Adobe Digital Dialogue.
"Become an expert in being an experience-led business."
Adobe Summit is another massive conference that has risen to the status of legendary. And with speakers like Richard Branson, rightfully so. Whether you're in advertising, social media, campaign management or content marketing, Adobe Summit promises to deliver an exceptional experience for you. The networking opportunities are endless, so make sure to keep your eyes open. Like with any large conference, make sure to do your planning beforehand in order to get the most value.
"Must-attend conference for mid to large enterprise growth and optimization people."
CXL Live is a gem of a conference to attend for people working in marketing, even if you are not directly involved with conversion optimization process. You will be surrounded by extremely successful growth hackers and marketers who have learned to master the game. This place is full of new innovative ideas, and you will get back to work feeling pumped and ready to take on the world with all the knowledge you have amassed over the course of just a few days.
"Social Media Week New York is one of the world's premier conferences for professionals at the intersection of media, marketing and technology."
Social Media Week also takes place in LA and London, but needless to say New York is where the main buzz is happening. In 2018 the conference will concentrate on "human connectivity and the power that technology provides in bringing the world closer together". If you're reading this, there's a good chance technology plays a big part in your line of work. This conference helps you make sense in all that, get the most out of the tech that you use and learn so much more about what you can do in marketing today. Hint: you can also get to meet BrandBastion at this conference.
Inbound 2018
,
September 4-7, Boston, MA
"INBOUND 2017 featured almost 300 breakout sessions from some of the biggest names and brightest minds in sales and marketing. INBOUND 2017 was packed with dozens of new tactics to take your business to the next level—and 2018 will be too."
Inbound is the legendary annual conference organized by HubSpot. They get some of the senior people from the most successful companies to speak on their stages (think Pixar, Uber, Slack, Google, etc), mix them with inspirational superstars like Seth Godin and Michelle Obama and gather 20K+ marketers together in one place. To get the most out of a conference of this size prepare to do some thorough planning before you go: what talks to attend, who to meet, where to network and so on. Without a proper plan you risk getting distracted by everything and everyone booming around you.

Image courtesy of Linkedin Marketing Blog.
"You will leave with all the materials you need to take a content marketing strategy back to your team – and – to implement a content marketing plan that will grow your business and inspire your audience."
CMW is organized annually in Cleveland by Content Marketing Institute. As is obvious from its name, the conference concentrates around content, strategies, optimization and all possible techniques you can implement in order to achieve and surpass your business goals. They gather top marketing speakers and make sure you spend your time there learning and networking with peers. Note that CMW is most beneficial for professionals from large companies.
Organized by Association of National Advertisers, Data & Measurement Conference gathers digital advertisers from all around North America. Although they haven't published their agenda yet, this conference is known to educate the visitors on all of the latest development in data-driven marketing, and all the ways you can apply this data to grow your business. There shouldn't be any guesswork in such matters and this event will make sure you are fully equipped to make your decisions strictly data-based.
Inc.5000
,
October 17-19, San Antonio, TX
"Be among the most successful entrepreneurs for three days of power networking, breakthrough insights, and pure fun."
Inc.5000 may not be a specifically marketing conference, but it is amazing in terms of developing and growing any aspect of your business. Their speakers range from top marketers, CEOs, growth hackers, COOs, investors and more. If what you're looking for is a better understanding of the overall picture and wondering about which business steps and directions to take, this might be just the place for you.
Even with a short cherry-picked list there is still a lot to choose from. To shortlist which to attend, choose the 3 biggest marketing challenges in your company that you aim to tackle in 2018. This will help you narrow down any list specifically to what you need and the rest is only a matter of time and budget allocation. Whatever conference you decide to attend, we hope it will create a very productive 2018 for your business!