Holidays
Cyber Monday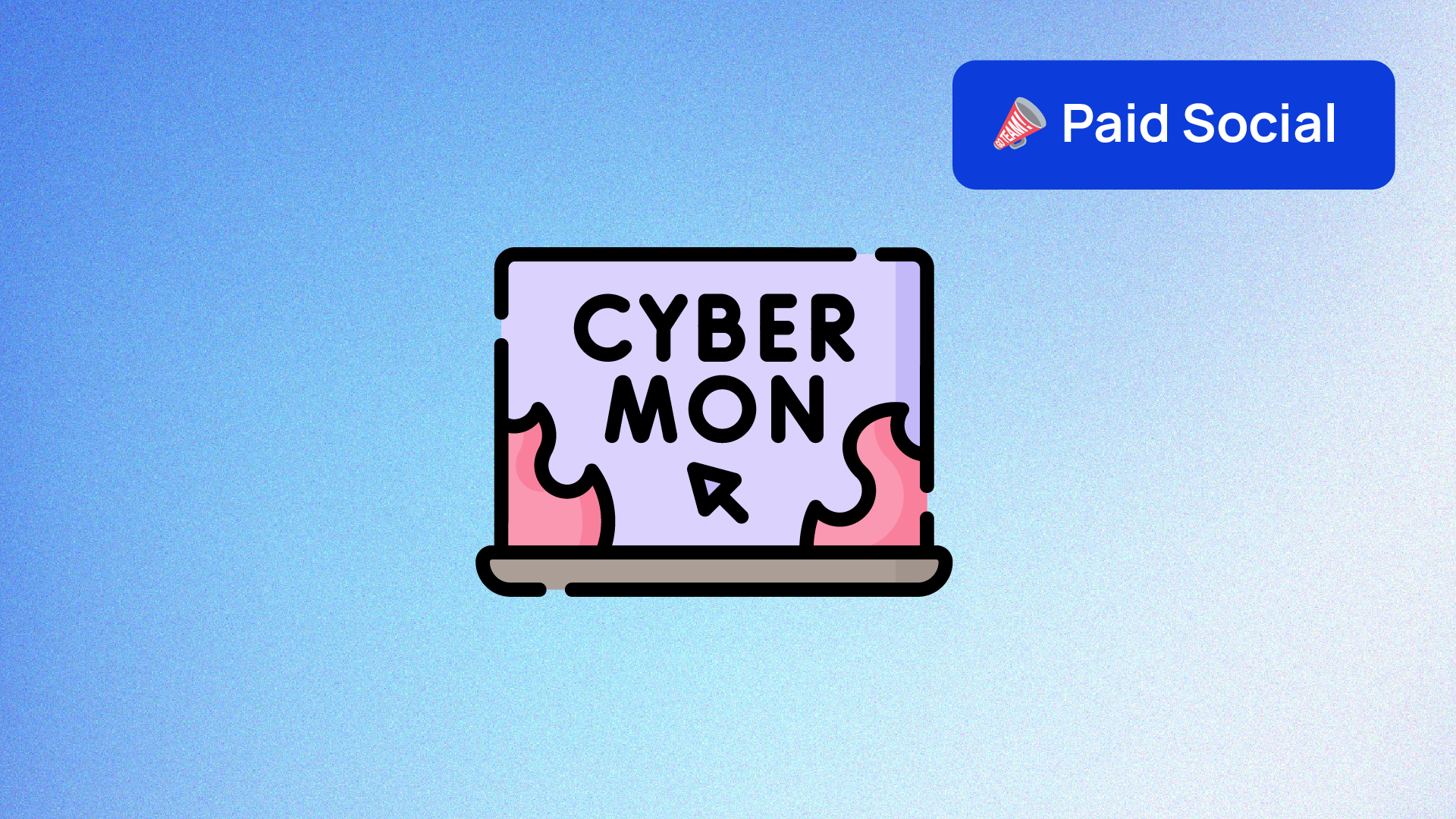 Cyber Monday, the Monday after Thanksgiving, has emerged as a significant online shopping event that businesses across various industries eagerly anticipate. It presents a remarkable opportunity for companies to boost their sales, engage with customers, and showcase their products or services.
This blog post has 40 ad examples for different industries to inspire your next Cyber Monday marketing campaigns.
What is Cyber Monday?
Cyber Monday is a popular online shopping event that takes place on the Monday following Thanksgiving. Cyber Monday is an important day during the busy Holiday Season. It was created as an online alternative to the in-store shopping frenzy of Black Friday.
Cyber Monday centers around e-commerce, while Black Friday focuses on in-store sales. Shoppers can shop online, compare prices, read reviews, and buy things from home or while traveling.
On Cyber Monday, businesses implement sales-focused marketing strategies and offer exclusive deals to online shoppers.
The history behind the Cyber Monday
The term "Cyber Monday" was coined by Ellen Davis and Scott Silverman in a 2005 press release from the National Retail Federation. The NRF observed an increase in online sales on the Monday following Thanksgiving. They decided to create a memorable name for this day.
Cyber Monday started in the early 2000s when the internet became popular for shopping. People started to recognize the convenience of online shopping, and retailers took notice of the rising trend. As a result, they began offering special discounts and promotions on the Monday after Thanksgiving to encourage online shopping.
One of the driving forces behind the rise of Cyber Monday was the shift in consumer behavior. Black Friday traditionally marked the beginning of the holiday shopping season, with brick-and-mortar stores offering massive discounts and attracting hordes of shoppers. However, as online shopping gained traction, consumers started turning to the internet to find deals and avoid crowds.
Brands quickly recognized the potential of Cyber Monday as an online counterpart to Black Friday. They started leveraging the power of e-commerce and digital marketing to promote exclusive online deals, flash sales, and discounts specifically for Cyber Monday. This strategic approach allowed retailers to extend the shopping frenzy beyond the traditional brick-and-mortar stores and reach a wider audience of online shoppers.
Over the years, Cyber Monday has gained immense popularity and has become one of the biggest online shopping days worldwide. Brands across various industries participate in Cyber Monday, offering great deals on a wide range of products.
40 Cyber Monday Social Media Posts
Retail Industry:
For retailers, Cyber Monday is a prime opportunity to unleash a series of captivating Cyber Monday ads. By leveraging engaging social media posts, retailers can generate buzz, build anticipation, and drive traffic to their online stores. Implementing limited-time promotions, exclusive discounts, or buy-one-get-one deals are great ways to drive sales.
In retail, offering free shipping on Cyber Monday is important as it removes an extra barrier for online shoppers.
Cyber Monday post idea for small businesses:
One Cyber Monday idea for small businesses is to highlight your unique offerings, great deals, and personalized customer service. Emphasize the advantages of shopping small, such as supporting local entrepreneurs and discovering handcrafted products. Share stories, showcase behind-the-scenes footage, and feature customer testimonials on your social media and website. By emphasizing the authentic and personal aspects of your business, you can attract customers who appreciate the value of shopping local.
Consumer Packaged Goods:
CPG companies can leverage Cyber Monday by brainstorming innovative marketing ideas that resonate with their target audience. Crafting compelling Cyber Monday ads that highlight the unique value proposition of their products can capture the attention of potential customers. Some Cyber Monday promotion ideas include bundle offers, free gifts with purchase, or special limited-edition releases.
Health & Wellness:
Cyber Monday presents an opportunity to inspire customers with promotional ideas that align with their well-being goals.
Some Cyber Monday marketing ideas include discounted online consultations, wellness bundles, or free access to exclusive content.
Media:
Media companies can leverage enticing Cyber Monday promotions, such as discounted subscriptions, extended free trial periods, or exclusive content releases.
Using social media, media businesses can create buzz and become popular destinations for Black Friday and Cyber Monday deals.
Food & Drink:
For food and drink establishments, Cyber Monday is an opportune time to showcase irresistible deals through captivating social media posts. Special offers such as temporary discounts on fancy food, ready-to-cook packages, or unique dishes can entice customers. These offers can attract customers to enjoy delicious meals.
Financial:
Financial service providers, including small businesses, can benefit from Cyber Monday by brainstorming promotion ideas that resonate with potential customers. Creating engaging social media posts can attract individuals who are interested in securing their financial future. These posts can include exclusive deals, lower fees, or personalized financial solutions.
Financial firms can use social media to engage customers and become trusted guides for Black Friday and Cyber Monday deals.
Travel & Tourism:
Cyber Monday is a great chance for the travel industry to advertise attractive offers and experiences on social media. Showcasing exclusive travel packages, discounted accommodations, or unique travel experiences can captivate the imagination of potential customers.
Cyber Monday ads can boost sales and motivate people to plan their dream trips. These ads usually highlight limited availability, early booking discounts, or extra perks.
Pets:
Cyber Monday also opens up exciting possibilities for businesses in the pet industry to leverage their marketing efforts. Crafting Cyber Monday sales that highlight exclusive deals on pet products, grooming services, or personalized accessories can engage pet lovers.
Cyber Monday promotional ideas like flash sales, gift bundles, or charitable initiatives can attract customers seeking to pamper their pets.
In summary...
As Cyber Monday approaches, businesses across all industries can tap into the power of social media to maximize their marketing efforts. Embrace the potential of Cyber Monday, and watch your sales soar while delighting your audience with irresistible offers and engaging content.
Free 2023 Social Media Calendar