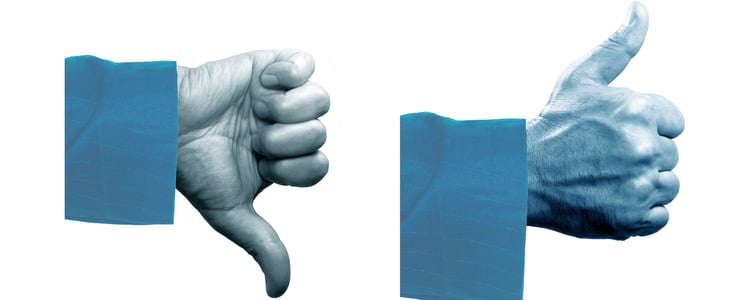 Over the holiday season, many social media and community managers have the privilege of taking time off from their normal routine of posting, moderating and responding to comments on social media channels. However, when companies don't have the appropriate solution in place, both organic posts and paid posts often go unattended, resulting in a decrease in brand sentiment and loss of revenue.
We know that users are increasingly heading to Facebook for answers. With 80% of social media users accessing the platform from a mobile device, access to customer service teams is only a click away.
Here we've selected two Facebook posts to use as examples for what happens when sponsored posts are neglected. (*Please note BrandBastion is not affiliated with either brand seen here.)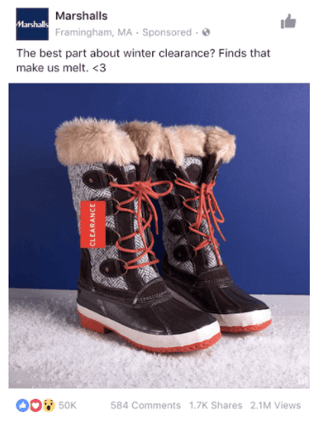 American and Canadian off-price department store Marshall's sponsored this Facebook paid post recently. When we looked at the comments, we found many unattended customer inquiries, such as: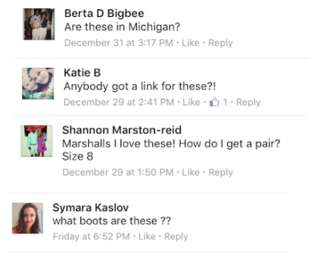 Because the brand did not respond to these customer inquiries, many customers chose to look elsewhere for the boots, ultimately resulting in a loss of sales for the retailer and an increase in sales for their competitors.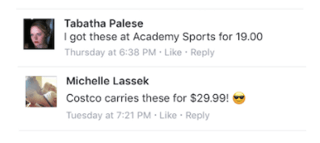 Marshalls sponsored this post with the intent of driving people to visit a Marshalls store, though effectively they ended up paying for an ad promoting sales at competitor stores, Academy Sports and Costco.

American department store retailing chain Kohl's experienced similar activity on their posts during a holiday clearance event. This type of feedback demonstrates why companies need to implement social customer service in their social media strategy.
The entire purpose of the Facebook ad is being able to "extend your Page posts beyond your Page" and "inspire people to take action." But if the actions people are inspired to take include shopping with a competitor or publically declaring distaste for a brand, the Facebook ad has most definitely not served it's purpose, but rather has worked against the Page.
Brands should work to avoid this type of activity being promoted on Facebook ads through the following proactive steps:
Actively monitor ads and provide customer support in a timely manner

Hide or delete any spam received

Serve customers via the channels and methods they prefer (ex: Facebook or Instagram vs. email or phone call)
By following these steps you'll turn your ad investment into a revenue-generating center as opposed to a billboard for brand-bashing.
Learn more about how BrandBastion can help you proactively monitor your promoted Facebook ads while no one else is looking.